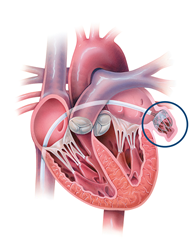 We are excited to offer this one-of-a-kind treatment at Florida Hospital Pepin Heart Institute
Tampa, FL (PRWEB) May 05, 2016
Florida Hospital Pepin Heart Institute was the first hospital in Tampa to offer patients with non-valvular atrial fibrillation (A-Fib) an alternative to long-term warfarin medication with the newly approved WATCHMAN Left Atrial Appendage Closure (LAAC) Implant. Since first offering the procedure in April of 2015, Florida Hospital Pepin Heart Institute doctors successfully implanted the Watchman device in four patients, significantly improving their odds of avoiding a stroke associated with their heart rhythm issues.
A-Fib affects an estimated five million people in the United States and is a condition in which the heart beats irregularly. Although the condition itself isn't life threatening, one in three people who have AFib will suffer a stroke, according to the American Heart Association.
"There's a pocket of tissue in the heart called the left atrial appendage. With the irregular heartbeats associated with A-Fib, blood isn't pumped out of the heart efficiently, causing it to collect in that pocket. This creates a dangerous condition in which the blood may clot and travel to the brain, causing a stroke," says Kenneth Yamamura, MD, an electrophysiologist who is specially trained to implant the WATCHMAN device at Florida Hospital Pepin Heart Institute. "Strokes that occur because of A-Fib are more frequently fatal or disabling."
To lower the risk for stroke, patients with A-Fib are typically prescribed blood thinners such as warfarin, which affect the blood's ability to clot. For patients who have reason to seek a non-drug alternative, the WATCHMAN LAAC Implant is available to reduce their risk of A-Fib related stroke. The WATCHMAN Implant closes off the left atrial appendage (LAA) to keep harmful blood clots from the LAA from entering the blood stream. By closing off the LAA, the risk of stroke may be reduced and, over time, patients may be able to stop taking warfarin.
"There can be issues with the use of blood-thinning medications such as warfarin, including a chance of heavy bleeding, interactions with other medications, and certain medical conditions that can prevent people from safely taking them," says Asad Sawar, MD, who also performs the WATCHMAN procedure at Florida Hospital Pepin Heart Institute. "For patients who cannot take these medications, the WATCHMAN is a clinically proven, potentially life-saving alternative."
Implanting the WATCHMAN Device is a one-time procedure that usually lasts about an hour. It is a minimally invasive procedure that doesn't require open-heart surgery. Following the procedure, patients typically need to stay in the hospital for 24 hours.
"We are excited to offer this one-of-a-kind treatment at Florida Hospital Pepin Heart Institute," said Thomas Nicosia, Assistant Vice President of Cardiovascular Services at Florida Hospital Tampa. "For more than 20 years, Pepin Heart has been at the forefront of innovative cardiovascular care. The WATCHMAN is another example of how we're bringing the latest technology, procedures, and expertise to the Tampa Bay community."
About Atrial Fibrillation
Atrial fibrillation (AFib) is a heart condition where the upper chambers of the heart (atrium) beat too fast and with irregular rhythm (fibrillation). AFib is the most common cardiac arrhythmia, currently affecting more than five million Americans.1 The irregular heartbeats associated with AFib can cause blood to pool in the heart, greatly increasing the chance for stroke. The most common treatment to reduce stroke risk in patients with AFib is blood-thinning warfarin medication. Despite its proven efficacy, long-term warfarin medication is not well-tolerated by some patients and carries a significant risk for bleeding complications. Nearly half of AFib patients eligible for warfarin are currently untreated due to tolerance and adherence issues.2
1. Colilla et al., Am J Cardiol. 2013; 112:1142-1147
2. Waldo, AL. JACC 2005; 46:1729-1736.
About Florida Hospital Tampa
Florida Hospital Tampa is a not-for-profit 513-bed tertiary hospital specializing in cardiovascular medicine, neuroscience, orthopaedics, women's services, pediatrics, oncology, endocrinology, bariatrics, wound healing, sleep medicine and general surgery including minimally invasive and robotic-assisted procedures. Also located at Florida Hospital Tampa is the renowned Florida Hospital Pepin Heart Institute, a recognized leader in cardiovascular disease prevention, diagnosis, treatment and leading-edge research. The recent addition of the Doc1st ER shows that Florida Hospital Tampa is committed to providing compassionate and quality healthcare. Part of the Adventist Health System, Florida Hospital is a leading health network comprised of 26 hospitals throughout the state. For more information, visit http://www.FHTampa.org.
About Florida Hospital Pepin Heart Institute and Dr. Kiran C. Patel Research Institute
Florida Hospital Pepin Heart Institute, located at Florida Hospital Tampa, is a free-standing cardiovascular institute providing comprehensive cardiovascular care. Leading the way with the first accredited chest pain emergency room in Tampa Bay, the institute is among an elite few in the state of Florida chosen to perform the ground breaking Transcatheter Aortic Valve Replacement (TAVR) procedure. Florida Hospital Pepin Heart Institute and the Dr. Kiran C. Patel Research Institute, affiliated with the University of South Florida (USF), are exploring and conducting leading-edge research to develop break-through treatments long before they are available in most other hospitals. To learn more, visit http://www.FHPepinHeart.org.
About Boston Scientific and the WATCHMAN Implant
Boston Scientific is a worldwide developer, manufacturer and marketer of medical devices that are used in a broad range of interventional medical specialties. For more information, please visit: http://www.bostonscientific.com.
The WATCHMAN Implant has been approved in Europe since 2005 and is FDA-approved in the United States. It has been implanted in more than 10,000 patients and is approved in more than 70 countries around the world. For more information on the WATCHMAN Implant, please visit: watchmanimplant.com.
WATCHMAN™ Left Atrial Appendage Closure Device from Boston Scientific
The WATCHMAN Device is a permanent implant designed to close the left atrial appendage in the heart in an effort to reduce the risk of stroke. With all medical procedures there are risks associated with the implant procedure and the use of the device. The risks include but are not limited to accidental heart puncture, air embolism, allergic reaction, anemia, anesthesia risks, arrhythmias, AV (Arteriovenous) fistula, bleeding or throat pain from the TEE (Trans Esophageal Echo) probe, blood clot or air bubbles in the lungs or other organs, bruising at the catheter insertion site, clot formation on the WATCHMAN™ Closure Device, cranial bleed, excessive bleeding, gastrointestinal bleeding, groin puncture bleed, hypotension, infection/pneumonia, pneumothorax, pulmonary edema, pulmonary vein obstruction, renal failure, stroke, thrombosis and transient ischemic attack. In rare cases death can occur. Be sure to talk with your doctor so that you thoroughly understand all of the risks and benefits associated with the implantation of the WATCHMAN Device.