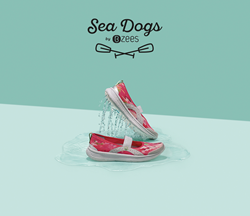 The drainage system is tested and proven to drain excess water out of the shoe to keep your feet comfortable and at optimum performance for activities near and around water
St. Louis (PRWEB) May 05, 2016
Athleisure footwear brand Bzees has announced the release of its first-ever, water-friendly footwear line Sea Dogs. Sea Dogs feature a unique drainage system in the midsole allowing water to drain out of the bottom of the shoe making it the perfect shoe choice for your water adventures.
"Our consumer wants the function of their footwear to match an active and busy lifestyle, but is also very aware of the style component. With that in mind, Sea Dogs are designed to take you from the day's water activities and beyond," explained Lori McDermid, VP of Sales for Bzees, one of the Caleres brands. "The drainage system is tested and proven to drain excess water out of the shoe to keep your feet comfortable and at optimum performance for activities near and around water including SUP, walks on the beach or even a day at water and theme parks with your family."
The opening Sea Dogs collection includes four slip-on styles, with a total of eight color/print options, with a retail price of $69. The line includes sneaker style slip-ons Wavy, Wink and Wisdom; and maryjane style Wish. Sea Dogs are available for purchase online at http://www.bzees.com and select retailers nationwide.
Sea Dogs features include:

A drainage system in the midsole allows water to drain out of holes in the bottom of the shoes.
A rubber sole provides traction on wet and dry surfaces and contains plastic mesh hole covers to prevent debris from entering drainage holes.
Sea Dogs are chlorine resistant. A treatment is applied to the materials to protect them from fading due to chlorine.
Sea Dogs are machine washable using mild detergent and are recommend to air-dry out of direct sunlight.
Ultra-lightweight construction.
Bzees is a brand of women's sporty footwear designed to rejuvenate the mind and body from the feet up. Known for its "light feels right" cloud technology in its current range of sneakers, boots, slip-ons and sandals, Bzees has a mission to offer women a footwear choice to fill their daily needs with a comfortable and fashionable focus. Taking their innovation a step further, Bzees created Sea Dogs to provide a shoe option suitable for both land and sea, which the market is currently lacking.
Easily cared for like the rest of the Bzees collection, all styles are machine washable using mild detergent. Suggested care instructions include air drying out of direct sunlight and rinsing or washing after use.
About Bzees
Bzees is the brand of women's sporty footwear that rejuvenates the mind and body from the feet up. Designed with cloud technology including free-foam footbeds, dynamic stretch uppers, air-infused outsoles and are machine washable to provide a "light feels right" footwear option for women to match the everyday realities of life. Bzees are available online at http://www.bzees.com and select retailers nationwide. Join Bzees on the road to Shoetopia on Instagram #lightfeelsright.
About Caleres
Caleres is a diverse portfolio of global footwear brands, which fit people's lives: Family, Healthy Living and Contemporary Fashion. Our products are available virtually everywhere - in the over 1,200 retail stores we operate, in hundreds of major department and specialty stores, on our branded ecommerce sites, and on many additional third-party retail websites. Famous Footwear and Famous.com serve as our Family brands. Our Contemporary Fashion brands include Sam Edelman, Franco Sarto, Vince, Via Spiga, Diane von Furstenberg, Fergie Footwear and Carlos Santana. Naturalizer, Dr. Scholl's, LifeStride, Bzees and Rykä represent our Healthy Living brands. Combined, these brands help make Caleres a company with both a legacy and a mission. Our legacy is our more than 130-years of craftsmanship, our passion for fit and our business savvy, while our mission is to continue to inspire people to feel good…feet first. Visit caleres.com to learn more about us.
# # #