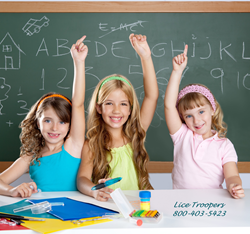 Teachers and parents have too many other responsibilities—fighting an endless battle against lice shouldn't be one of them.
Miami, Florida (PRWEB) May 06, 2016
According to Florida Today, recent outbreaks of head lice in Florida have parents scratching their heads as they try to get rid of the bugs and keep them away. As more and more schools repeal their no-nit policies, parents are left trying to figure out how to protect their kids and their homes from the parasite that will affect between six and twelve million individuals annually.
Lice Troopers, the Miami-based professional lice removal company continues to support the no-nit policies that have recently been under discussion, and in many districts have even been repealed. They have also been working directly with schools to set up school-wide screenings to help identify children with lice so they can be treated immediately.
Said Arie Harel, owner and operator of Lice Troopers, "The no-nit policy serves a purpose, keeping kids with an infestation from passing a highly contagious condition. We understand that schools are concerned about absences, but when the condition is handled properly, most children wouldn't need to miss more than half a day."
HIPPPA, designed to protect health-related information, is another part of the issue. Even when a parent is willing to disclose information about a lice outbreak at home, schools are reluctant to share this knowledge with other parents for fear of violating privacy policies. This information, however, can often help prevent further spread.
Unfortunately, the new, relaxed policies aren't allowing parents to relax. Many, especially those who have already lived the nightmare of an outbreak, complain that schools aren't doing their part in helping to help stop the spread of lice. Allowing children with nits (lice eggs) in their hair to return to school, while simultaneously not informing other parents, seems like a recipe for an epidemic. Counties like Brevard are actively petitioning for the return of the no-nit policy, parental notification and in-school head lice screenings.
Said Harel, "We understand that schools want to keep kids in school, and that they're also concerned about privacy. But ongoing lice epidemics put an impossible strain on families, with many mothers reporting incredible levels of stress and anxiety over the issue. School screenings, for example, are a way to quickly and efficiently identify who has lice so the individual(s) can be treated immediately. We've been helping schools stay lice free with screenings for years and will continue to do so throughout the current outbreaks."
Lice Troopers is the all-natural, guaranteed Head Lice Removal Service™ that manually removes the head louse parasite safely and discreetly in child-friendly salon settings, or other chosen location. Providing safe solutions for frantic families, the Lice Troopers team has successfully treated thousands of families nationwide, with services widely recommended by pediatricians and reimbursed by many major health insurance carriers, flexible spending accounts and health savings accounts.