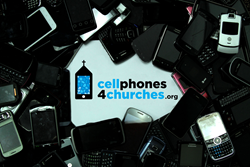 "CellPhones4Churches.org takes away the hassle of putting together an event and allows people to turn cell phones they no longer need into money for their church while paying them, too."
Oklahoma City, OK (PRWEB) May 12, 2016
Cell Phones 4 Churches, a national web-based fundraising tool, has partnered with PaceButler Corporation to launch a new nation-wide church fundraising ministry. Together, the organizations will match the price of each used cell phone sold at cellphones4churhches.org with a donation to a local church of the seller's choice.
"Imagine having an ongoing fundraiser for your church without having to put together a bake sale, silent auction or spaghetti dinner," said Tom Pace, PaceButler Corporation CEO. "CellPhones4Churches.org takes away the hassle of putting together an event and allows people to turn cell phones they no longer need into money for their church while paying them, too."
CellPhones4Churches.org provides more information about how much they pay for the donated phones and offers free USPS and FedEx shipping labels. They will send the payments within two business days of receiving the shipment. PaceButler Corporation has been purchasing used phones nationwide since 1987 and is excited to co-launch a new, innovative ministry.
More than 10,000 churches are already participating, and the organization encourages more groups to join and raise money for their congregation.
To learn more about the ministry, please visit: http://www.cellphones4churches.org.
About Cell Phones 4 Churches
Cell Phones 4 Churches was established in 2016 with a focus on providing churches with more funds to continue or expand their ministries. Visit cellphones4churches.org or call 877-554- 0007 for more information.
About PaceButler Corporation
Established in 1987, PaceButler Corporation purchases cell phones from individuals and businesses. They have an A+ rating with the Better Business Bureau and employ 80 wonderful people. Visit pacebutler.com or call 405-755- 3131 for more information.