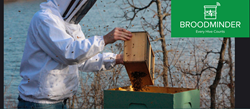 We can't fix or effect what we can't measure.
Stoughton, WI (PRWEB) May 07, 2016
Madison, Wisconsin–In the midst of record reports of bee deaths and hive collapse, BroodMinder isn't waiting for solutions from the government or academia. According to the Bee Informed Partnership, Midwest beekeepers are losing over 50% of their hives annually. Taking a proactive approach, BroodMinder today announced Phase II of their product line with a device that helps beekeepers monitor the weight of their hives.
Fittingly called BroodMinder–W, the engineering team has spent the last six months researching, designing, building, and testing a cost-effective scale that enables beekeepers to watch brood growth in the spring and monitor honey flows that occur periodically during the summer. "We have been through literally dozens of prototypes and gathered user feedback from clubs and beekeeping conferences. We now have a design that we know will meet the needs of our backyard beekeeping community," says Rich Morris, founder and lead drone for BroodMinder.
BroodMinder–W is designed specifically for beekeeping. Beekeepers now can easily and accurately measure hive weight using the newly developed BroodMinder app. Weight information can be a critical to evaluating bee health, including honey production and brood development.
Beekeepers who have tested the product have especially enjoyed these features:

Simplicity of use and design
Easily moves from hive to hive
Remains clear of debris falling through the bottom board
Half the cost of competitors
Free iPhone or Android app for wireless 24/7 data retrieval
Dynamic graphing trends at-a-glance
Free cloud storage of collected data
Professionally engineered and designed
Citizen Science
The BroodMinder team's mission engages the home beekeeping community in citizen science by providing simple, accurate and affordable sensors for the beehive. Since the launch of the first 500 devices, hundreds of people have joined the BroodMinder community. Novice and experienced beekeepers use the app to share simple, uniform measurements from tens of thousands of hives. In turn, the beekeeping community gains broad-based insight into hive health. With accurate information, beekeepers can intervene if there are signs of hive distress. More simply put, "We can't fix or effect what we can't measure."
Data will be stored free of charge in the cloud in partnership with Beekeeping.io. Using the new BroodMinder app, this information can be graphed and examined for trends. This growing body of public domain data can be shared with clubs, academics, producers and fellow backyard beekeepers.
About BroodMinder
BroodMinder, founded in June of 2015, is dedicated to providing actionable data at low cost to the dedicated beekeeper utilizing Bluetooth Low Energy (BLE) and other technology tools. With a keen focus on good design and scientific validity, the team is anxious to work with all manner of beekeepers, be they hobbyist, commercial, or academic. With 210,000 beekeepers in the US managing approximately 3 million hives, we are reaching out to determine what tools are needed most. BroodMinder is funded through private bootstrapping resources as well as crowdfunding.
There are only two weeks left to lend support to the funding campaign. Visit Indiegogo where BroodMinder–W can also be purchased at the wholesale price of $149.
Inquiries:
Rich Morris, founder and lead drone
BroodMinder
BroodMinder.com
Support the Indiegogo Campaign