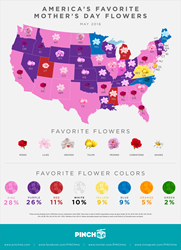 "Our data indicates that Pink Roses are sure to make mom happy," said Jeremy Reid, Founder and Chairman of PINCHme.
New York, NY (PRWEB) May 06, 2016
What mom doesn't love flowers? After April showers have cleared, Moms across America are getting ready for flowers to bloom. When it comes to Mother's Day, you want to give mom the perfect bouquet.
PINCHme hand-picked over 18,000 of its members from across America to find out which flower and color they wanted to receive on Mother's Day. PINCHme is a revolutionary website that lets members try products from the world's leading brands completely for free, in exchange for their feedback. PINCHme members share their feedback on the PINCHme platform as well as on social media.
Roses took the number one seed as America's favorite flower – with 25% of votes. Lilies, Tulips, Orchids, and Peonies followed with 13%, 11%, 10%, and 7% of the votes respectively. With so many beautiful colors to choose from, the survey also asked members which hue they prefer for their special bouquet. Pink is always pretty in this case – with 28% of votes as America's favorite flower color. Purple came in close second with 26% of the votes and the third most preferred flower color was red, with a tally of 11%.
"Our data indicates that Pink Roses are sure to make mom happy," said Jeremy Reid, Founder and Chairman of PINCHme.
"We deliver smiles to over 2 Million members nationwide by helping them discover and try products for free. Over 85% of our audience is female, with 3 out of 5 PINCHme members having children living at home. Our core member is a Mom, and she's really important to us."
The America's Favorite Mother's Day Flowers infographic breaks down favorite flower and color preference by U.S. State.
Florida moms indicated a preference towards Roses (27%), whilst Orchids and Lilies also ranked highly with 18% and 13% respectively. Color preferences in the State included pink at 27%, purple at 26% and white at 12%.
The DC Metro Area, in particular, prefers Roses (23%), Lilies (13%) and Tulips (12%) and has a color affinity for pink (26%), purple (25%), and red (12%).
Pennsylvania moms also prefer Roses, Lilies, and Tulips, with a breakdown of 22%, 15%, 11% respectively. The colors most desired in the Keystone state are pink (26%), purple (25%), and white (12%).
About PINCHme
PINCHme.com is a revolutionary website that offers consumers free products from leading beauty, food and other household brands in exchange for their feedback. No credit card or payment of any kind is required! Members just log on and choose from a selection of the products on offer, which then arrive by mail on their doorstep a few weeks later. Members just need be sure to complete short feedback surveys on each product a few weeks later!
Launched in 2013, PINCHme works with leading packaged goods companies such as P&G, L'Oréal, Johnson & Johnson, Nestle, Kellogg's and Kraft, who's products are found at most supermarket, pharmacy and department stores. PINCHme helps these companies gain product feedback and other rich insights from their ideal target consumer audiences, as well as generate social media buzz and drive user generated content, all designed to increase their bottom line sales. PINCHme's highly engaged community of more than 2 million members is comprised predominately of female millennials who are the primary shopper in the household. Members are required to complete detailed personal profiles which allow our brand partners to micro-target particular segments of the community for digital promotions and sampling campaigns.
Want to find out more? Please visit http://www.pinchme.com.
*These are key findings from a PINCHme survey conducted in April 2016. There were a total of 18,313 respondents across all ages (Under 18: 1%; 18-24: 16%; 25-29: 14%; 30-34: 14%; 35-39: 13%; 40-44: 9%; 45+: 33%). Members from 48 U.S. States (excluding Hawaii and Alaska) as well as the District of Columbia were surveyed.
America's Favorite Flowers by the numbers:
Roses 25%
Lilies 13%
Tulips 11%
Orchids 10%
Peonies 7%
Daisies 7%
Hydrangeas 6%
Carnations 6%
Sunflowers 5%
Other 2%
Succulents 2%
Iris 2%
Magnolia 2%
Violets 1%
Ranunculus 1%
America's Favorite Flower Colors by the numbers:
Pink 28%
Purple 26%
Red 11%
White 10%
Yellow 9%
Blue 9%
Orange 5%
Green 2%
Favorite Flowers by State:
AL Roses
AR Roses
AZ Roses
CA Roses
CO Lilies
CT Roses
DC Roses
DE Roses
FL Roses
GA Roses
IA Lilies
ID Roses
IL Orchids
IN Lilies
KS Tulips
KY Lilies
LA Lilies
MA Tulips
MD Lilies
ME Lilies
MI Lilies
MN Lilies
MO Lilies
MS Lilies
MT Lilies
NC Roses
ND Peonies
NE Tulips
NH Orchids
NJ Orchids
NM Lilies
NV Tulips
NY Orchids
OH Lilies
OK Roses
OR Carnations
PA Roses
RI Lilies
SC Tulips
SD Roses
TN Lilies
TX Tulips
UT Daisies
VA Tulips
VT Roses
WA Peonies
WI Lilies
WV Lilies
WY Orchids
Favorite Flower Color by State:
AL Pink
AR Pink
AZ Pink
CA Pink
CO Pink
CT Purple
DC Pink
DE Yellow
FL Pink
GA Pink
IA Pink
ID Purple
IL Pink
IN Pink
KS Purple
KY Purple
LA Purple
MA Purple
MD Pink
ME Blue
MI Red
MN Blue
MO Purple
MS Red
MT Pink
NC Blue
ND Pink
NE Purple
NH Purple
NJ Pink
NM Pink
NV Purple
NY Pink
OH Purple
OK Purple
OR Purple
PA Pink
RI Purple
SC Pink
SD Purple
TN Purple
TX Pink
UT Red
VA Yellow
VT Purple
WA Pink
WI Purple
WV Yellow
WY Purple