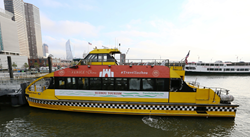 SUZHOU, CHINA (PRWEB) May 09, 2016
Over the weekend,Suzhou Tourism finished an awareness tour tied to its newly launched social media program – "A Virtual Look at Suzhou: Home to Culture, Canals, Cuisine and Craft" – which directly targets North American and European travelers. With stops in Portland, Los Angeles, Fort Lauderdale, and New York City, the bi-coastal tour provided consumers, media, and travel professionals the ability to connect with the destination via physical events and social media.
The event tour culminated in New York City on May 7, 2016 when Suzhou Tourism completed its "take over" of one of the city's iconic water taxis with a creative exterior wrap displaying the Suzhou Tourism logo and social media handles to generate buzz and heightened awareness of Suzhou among one of its largest consumer markets within the United States. Throughout the two-week partnership between Suzhou Tourism and New York Water Taxi, locals and visitors to New York City alike participated in the "Spot and Snap" campaign, which involved consumers finding the boat, stopping to take a picture, and uploading their images to Facebook, Twitter or Instagram with the official hashtag, #TravelSuzhou.
In its sister city Portland, Suzhou Tourism hosted "Suzhou Tourism Day" on March 22 at Lan Su Chinese Garden, which is a replica of a Suzhou-style garden. The day-long festivities included a social media sweepstakes that invited consumers who visited the garden to share their images with the hashtag #travelsuzhou and tag the destination's Facebook, Twitter or Instagram accounts for the chance to win authentic souvenirs such as silk scarves, embroidered items, and tea throughout the day.
To capitalize on the expanding California market and the numerous flight options to China from Los Angeles, Suzhou Tourism headed south after Portland to host an event on March 24 with LA Travel Massive – a network of travel media and key opinion leaders who care about making travel better. The interactive evening event featured a presentation about Suzhou and a selfie-station where guests took photos of themselves "in" Suzhou for sharing across social media.
Feeding into the momentum surrounding the U.S.-China Tourism Year of 2016, Suzhou Tourism organized a new relationship with Greater Fort Lauderdale, Florida – otherwise known as the Venice of America – playing into the synergies of both cities offering miles of canals and waterways that have positively impacted local lifestyle. On April 5, the Greater Fort Lauderdale CVB presented Suzhou Tourism with a certificate of friendship showcasing the connection between the "Venice of America" and the "Venice of the East". Additionally, banner advertisements have been placed around the intracoastal waterway within Greater Fort Lauderdale to promote the partnership.
The events were all part of a multifaceted social media campaign currently running in North America and Europe, designed to engage the regions' travelers on behalf of Suzhou Tourism. The overall social media strategy included sweepstakes, content creation, and influencer marketing with a goal of increasing visibility and awareness for the destination among various digital and social media platforms, specifically its website, TravelToSuzhou.com, Instagram, YouTube, Facebook, and Twitter.
About Suzhou
Suzhou, the "Venice of China," is known for its elegant stone bridges, canals, flowing water, and noteworthy architecture. Located in the center of the Yangtze River Delta, approximately 60 miles west of Shanghai, Suzhou is one of the oldest cities in the Yangtze Basin dating back more than 2,500 years. The city boasts the beautifully manicured Classical Gardens of Suzhou, nine of which have been designated a UNESCO World Heritage Site. Each year, millions of tourists travel to Suzhou to experience the destination's more than 400 attractions, ranging from pagodas and temples to historical districts and world-class museums. As the largest industrial city in China, Suzhou is home to Suzhou Industrial Park (SIP), which boasts five-star hotels, the iconic Lake Jinji, and Asia's largest Ferris Wheel. Travel to Suzhou is easily accessible via three convenient area airports with non-stop flights from North America: Shanghai Hongqiao International Airport (SHA) offers bullet train service to Suzhou, which is approximately a 50-mile, 30-minute trip; Pudong International Airport (PVG) is approximately 65 miles from Suzhou, an hour and half drive; and Sunan Shuofang International Airport (WUX) is approximately 14 miles from Suzhou, a 30-minute drive.
For more information on Suzhou please visit http://www.TravelToSuzhou.com, follow us on Instagram @visitsuzhou, Twitter @suzhouvisit and like us on Facebook at Visit Suzhou.