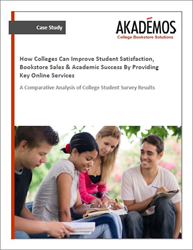 The results of this study unequivocally show that institutions addressing textbook affordability are making big impacts in areas including student satisfaction and preparedness that are critical to academic success
Norwalk, CT (PRWEB) May 10, 2016
Akademos, Inc. released a new comparative study today that highlights how addressing textbook affordability at colleges and universities with specialized online solutions positively impacts student satisfaction, bookstore sales and academic success. A complimentary copy of the study can be requested at http://hubs.ly/H02WlG80.
The new study contains a comparative analysis of results from two blind surveys recently conducted on college student course material purchasing and bookstore services. One survey was administered exclusively to students currently enrolled at Akademos partner institutions and a second, identical survey was administered to students enrolled at a random sample of United States institutions not partnered with Akademos. Several notable differences were revealed in the analysis including:

Students at institutions offering an extensive selection of low-priced textbooks are significantly more satisfied with textbook costs than students in the general population
Students at institutions providing a peer-to-peer marketplace as part of an online bookstore solution are considerably more likely than students in the general population to purchase all required course materials
Students at colleges offering best-in-class bookstore websites are much more likely than students in the general population to be prepared for class with all required materials
Students at institutions with mobile optimized, school-sanctioned bookstore websites are significantly more likely to forego purchasing textbooks on Amazon and other third party websites
"The results of this study unequivocally show that institutions addressing textbook affordability are making big impacts in areas including student satisfaction and preparedness that are critical to academic success," said John Squires, chief executive officer, Akademos. "The comparative analysis also proves that enhancing current bookstore strategies with an online solution is very effective at reducing textbook costs and provides a measurable return on investment benefitting both institutions and their students."
This new study follows on the heels of a white paper Akademos released last month containing the results of the survey administered to college students in the general population (those not attending Akademos partner schools). The white paper, which reveals important insights on student course material purchasing behaviors and attitudes toward bookstore services, can be requested at http://hubs.ly/H02WlGv0.
About Akademos
Akademos offers customized, online bookstore services and solutions that support what's most important to institutions - from full-service virtual bookstores to unique partnerships and products supporting on-campus shops. Akademos delivers cost savings on course materials for students while providing administrators and faculty with critical control over the textbook delivery process.
Akademos offers an innovative textbook marketplace, best-in-class eCommerce platform, eLearning solutions, and a unique adoption and analytics portal. The company's comprehensive supply-chain solution and commitment to responsive personal service makes it the choice of leading institutions throughout the country.
Akademos helps institutions deliver the right course materials, at affordable prices, on time. Learn more at akademos.com.