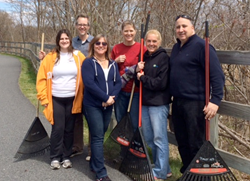 Baltimore, MD (PRWEB) May 06, 2016
International nonprofit Planet Aid announced today that many of its locations around the United States celebrated Earth Day, each in a different fashion. With a mission of helping the environment, Planet Aid considers Earth Day an important opportunity for increasing environmental awareness.
Planet Aid works for the environment on a daily basis by recycling unwanted clothing and textiles, reducing waste in landfills, conserving water, and preventing needless carbon dioxide from being released into the atmosphere. By organizing or participating in these Earth Day events, Planet Aid hopes to spread its message of conservation.
For the third year in a row, Planet Aid attended the annual Earth Day Festival in Alexandria, Virginia. The theme of the event perfectly corresponded to Planet Aid's daily work: "Choose to Reuse – Your Choices Matter." At the festival, Planet Aid Territory Manager Abdi Erazouki had the opportunity to speak with Alexandria Mayor Allison Silberberg and others about Planet Aid's work in the community.
Employees in Massachusetts collaborated to clean a portion of the Milford Upper Charles Trail, which Planet Aid has adopted and sponsored. The cleanup is done twice a year, and Earth Day provides an excellent opportunity to highlight the impact that simple programs can have on the environment.
Planet Aid also works within the college community. At the University of Delaware's Green Expo, Planet Aid employees chatted with students about the benefits of textile recycling. Planet Aid also had a presence at the Earth Day Fair in Washington, D.C.'s Howard University.
Additionally, Planet Aid assisted Louisiana company Lamar Advertising in fulfilling their recycling needs. The company held a footwear drive, and Planet Aid helped them to recycle 101 pairs of shoes.
"We feel that we must do what we can to take care of the world that we live in," said Planet Aid President Ester Neltrup.
To learn more about textile recycling and Planet Aid's mission visit http://www.planetaid.org.
About Planet Aid
Planet Aid is a U.S. 501 (c)(3) nonprofit and is registered with USAID as a private voluntary organization. It collects and recycles used clothing and shoes as part of its environmental mission. The net proceeds from its 21-state recycling operation help to support projects aimed at eliminating poverty. Since its inception in 1997, Planet Aid has provided more than $100 million to support projects on three continents. Planet Aid supports programs in education, teacher training, nutrition and agricultural and economic development.