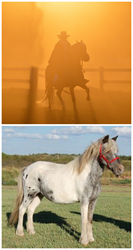 Duncan, OK (PRWEB) May 13, 2016
A variety of breeds and classes of horses will be arriving in Duncan in the coming weeks with the scheduled Oklahoma Miniature Horse Club, Inc's Mini Stampede, as well as the Sooner State & Southwest Peruvian Horse Shows. The two individual events will encompass many different skills and talents that will be enjoyable for all ages.
Miniature horses are found in many nations, primarily in Europe and the Americas. Miniature horses are determined by the height of the animal, which is usually less than 34–38 inches. While miniature horses are the size of a very small pony, many retain horse characteristics and are considered "horses" by their respective registries. Miniature horses are friendly and interact well with people, which leads them to often be kept as family pets, though they retain natural horse behavior, including a natural fight or flight instinct. They are also trained as service animals, as well as other show type events.
While the world's horsemen moved from naturally gaited horses to trotting horses, Peruvians continued to breed their naturally gaited "Caballo Peruano de Paso." Every purebred Peruvian horse has a "champagne" gait, which is the trademark of the breed. Thanks to its unique, inborn, four-beat lateral gait, the Peruvian is the smoothest riding horse in the world. He is also considered one of the showiest of all horse breeds because of an inner pride and energy that make him travel with a style and carriage as if always "on parade". In addition, the Peruvian is the only horse in the world with "termino", a graceful, flowing movement in which the forelegs are rolled towards the outside as the horse strides forward, much like the arm motion of a swimmer.
Make plans to see these beautiful animals this month at the Stephens County Fair & Expo Center, 2002 S 13th Street in Duncan, Ok. The Oklahoma Miniature Horse Club, Inc.'s Mini Stampede will take place May 13-14, while the Sooner State & Southwest Peruvian Horse Show will run from May 27-29. Detailed schedules and more may be found on their individual websites.
For more information contact The Duncan Convention and Visitors Bureau at 1-800-782-7167 or tourism(at)simmonscenter(dot)com or by visiting http://www.visitduncan.org.