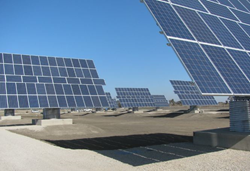 Robert Parkins is one of the nation's leaders in solar energy today.
VERNON, Calif. (PRWEB) May 11, 2016
Robert Parkins, a leading expert in building design, construction and high-profile solar energy projects, has joined the team at Optimum Group, where he will manage and supervise renewable energy projects.
Parkins is a longtime leader in the industry, having worked with solar for both government and private enterprises. He was Energy Services Manager for the U.S. Department of Energy's Western Area Power Administration, where he served as the solar photovoltaic expert. He served as a Photo Voltaic technical consultant to the DOE's Federal Energy Management Program, and was the senior manager responsible for the U.S. Department of Energy's California-Oregon Transmission Project, a $400 million, 500-kV transmission line with substations linking Oregon to California.
A pioneer in renewable energy systems, he has instructed many PV workshops throughout the United States and assisted numerous public agencies and private clients analyzing projects and Power Purchase Agreement and Operating Lease proposals, designing systems, writing technical RFP specifications, and more. He also has performed research and development of PV components and systems, and has implemented three PV Beta Test Sites to field test new technology modules and framing systems.
A registered Professional Engineer with the State of California, he earned his master's and bachelor's degrees in Civil Engineering from Stanford University, is a certified energy manager and holds a C-46 Solar Contractor License with the State of California. His past and present professional affiliations include: Board of Directors, Solar Electric Power Association; Board of Directors, Solar Cookers International; Board of Directors, Association for Efficient Environmental Energy Systems; and numerous positions in utility and energy-oriented organizations.
"Bob is one of the nation's leaders in solar energy today," said Optimum Group President Ali Sahabi. "His expertise in project management, research and development will be a tremendous asset to the company, and we are very excited to have him join our team."
About Optimum Group
Optimum Group provides innovative real estate development and construction management services to government agencies, public and private companies as well as nonprofit organizations. Decades of experience provides comprehensive oversight for a wide variety of projects with intense attention to detail. Our highly qualified team of professionals has successfully planned, designed and built bridges, industrial buildings, high-rises, colleges, hospitals, notable mixed-use developments and award-winning green communities. Visit http://www.optimumgroupllc.com.