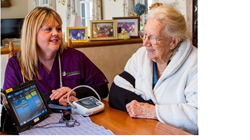 Cornerstone VNA has had a 4.8% 30-day readmission rate for its CHF patients since it began using the HRS tablets.
ROCHESTER, N.H. (PRWEB) May 10, 2016
Cornerstone VNA, a 2015 HomeCare Elite agency, is based out of Rochester, NH, has partnered with Health Recovery Solutions, a software company started at Johns Hopkins University, to transform telehealth remote monitoring.
HRS's disease-specific software is designed to engage patients with education videos, teach-back quizzes, care plans and surveys, and allows for video conferencing with nurses and family members. The software is loaded on tablets and provides all the standard telehealth monitoring while integrated with wireless Bluetooth devices. With a focus on engagement and education, Cornerstone VNA now has a 4.8% 30-day readmission rate for its CHF patients using HRS's software.
The state average for home care hospital readmissions in New Hampshire is 16.7% and 16% nationally. Cornerstone VNA's previous 30-day readmission rates for heart failure was 12.1%. That is a 60% reduction in CHF readmissions for patients that are on the telehealth program. The COPD patients placed on the telehealth program had a 6% 30-day readmission rate. Along with the 4.8% readmission rate, patients gave high ratings to the telehealth platform. On a scale of 0-5, the average score patients gave whether they would recommend the use of the tablet to a family member or friend was 4.08 (4-5 score means strongly agree).
Anne Carle, Clinical Telehealth Coordinator, reports the elderly patients are the ones who use the tablet more often and she has been getting more video calls from the patients recently. "I was able to see during one video call that a patient whose oxygen saturation levels were really low did not have her oxygen on. She had forgot to put it back on and I wouldn't have seen it if we weren't able to do a video call."
Cornerstone VNA has been using telehealth for over 15 years and is continuing its efforts to incorporate innovative approaches to continue to provide highly rated home care to its patients. Only 18% of home health agencies in the nation have received a 4.5 star or higher rating from the Centers for Medicare and Medicaid Services.
For more information, about Health Recovery Solutions (HRS) visit http://www.healthrecoverysolutions.com or call (347) 699-6HRS.
For more information, about Cornerstone VNA visit http://www.cornerstonevna.org or call 603-332-1133