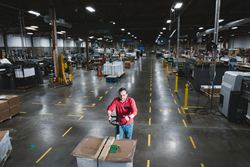 Ad-Mail's production, equipment and data management capabilities add resources to meet our growing direct mail customer demands
Portland, Oregon (PRWEB) May 12, 2016
Ad-Mail's equipment and employees are being transitioned into Premier Press' new state-of-the-art facilities that opened in May, 2015. The company's current customer relationships, processes, and pricing will continue. Ad-Mail's data processing capabilities, digital presses, mailing equipment and kit building team complement existing Premier Press capabilities, increasing capacity and providing additional production flexibility.
Bill Stevens, previous co-owner and president of Ad-Mail, "After more than a century of successfully delivering mailing services, the time felt right to combine Ad-Mail's expertise with a company that has similar values and reputation, as well as the resources needed for growth. Premier Press was a great fit. We feel this allows us to add more value to our loyal clients and opportunities to our dedicated employees. We believe this will ensure that Ad-Mail continues its' legacy for the next century."
Premier Press President Chris Feryn says, "The acquisition provides the increased capacity we need for our growing direct mail business. Ad-Mail's production and data management capabilities add resources to meet our growing direct mail customer demands.We are also excited to be working with new customers, providing the critical mass necessary to add additional shifts."
According to Michael Hecht, vice president of sales and marketing at Premier Press: "Having spent the last 35 years in the graphic arts industry, you'll have to look far and wide to find a company that delivers the products and services we do under one roof. Direct mail has seen a significant increase over the last few years; it is a critical component in many marketers' arsenal of tools."
More about Ad-Mail at admailinc.com
About Premier Press
Premier Press has reliably solved customer's marketing needs since 1974. The company provides a variety of marketing services, including digital and offset printing, retail graphics production and distribution, data management, personalized direct mail, packaging, design and fulfillment services. Premier Press was named the 2015 Oregon Manufacturer of the Year for companies with 101-500 employees. Located in Portland, Oregon, the family owned business's SGP and FSC certifications ensure high quality and environmentally friendly products and services. Learn more at http://www.premierpress.com.
Contact
Juli Cordill, Owner
503.223.4984
pr(at)premierpress(dot)com