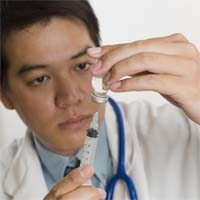 Immunotherapy approaches...offer a way to improve mesothelioma survival by using the body's own defenses.
Raleigh, NC (PRWEB) May 09, 2016
Researchers at the University of Pittsburgh Cancer Institute have developed a new kind of immunotherapy for mesothelioma using a portion of the vaccine that eradicated smallpox. Surviving Mesothelioma has just posted an in-depth article on the new research. Click here to read it now.
The Pittsburgh team used the cancer-seeking vaccinia virus, the active component in the smallpox vaccine, to deliver a molecule (CXCL11) directly into mesothelioma cells that would make them susceptible to immune system attack.
"Intratumoral expression of CXCL11, in addition to promoting local trafficking of T cells and to a lesser extent NK cells, has a novel function as a factor eliciting systemic immunity to cancer-associated antigens," writes lead author Zuqiang Liu.
A report on the findings published in OncoImmunology shows that treated mice had longer mesothelioma survival and developed much stronger immune systems.
"Cancers like malignant mesothelioma are able to grow and spread so quickly in part because of their ability to hide from the immune system," says Surviving Mesothelioma's Managing Editor, Alex Strauss. "Immunotherapy approaches like this one offer a way to improve mesothelioma survival by using the body's own defenses."
To learn more about how the vaccinia virus might be used to produce better mesothelioma outcomes, see Could Smallpox Vaccine Help Wipe Out Mesothelioma, Too?
Liu, Z, et al, "CXCL11-Armed oncolytic poxvirus elicits potent antitumor immunity and shows enhanced therapeutic efficacy", OncoImmunology, 2016, Volume 5, Issue 3, http://www.tandfonline.com/doi/full/10.1080/2162402X.2015.1091554
For nearly ten years, Surviving Mesothelioma has brought readers the most important and ground-breaking news on the causes, diagnosis and treatment of mesothelioma. All Surviving Mesothelioma news is gathered and reported directly from the peer-reviewed medical literature. Written for patients and their loved ones, Surviving Mesothelioma news helps families make more informed decisions.