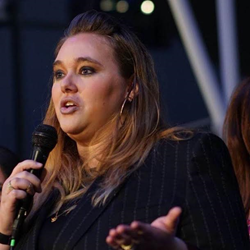 2016 is the Year of the Female Auctioneer!
Los Angeles, CA (Beverly Hills) (PRWEB) May 12, 2016
On May 1, 2016, Brigitte Kruse, of GWS Auctions, LLC officially made it into the Guinness Book of World Records. The record was for the "Largest Abandoned Property Auction in World History."
In January 2016, over 500,000 items were sold in four auction rings. Ms. Kruse managed four rings, simultaneously on the auction day. She describes the day as "electric" and said this was "the sale I have been training for my entire life." Ms. Kruse is one of the only auctioneers to work a court supervised, abandoned property auction this size in the industry's history. When being awarded the contract, she prevailed against some of the toughest competition in the country (all of whom were male auctioneers).
Ms. Kruse is a fifth generation auctioneer from the prestigious "Kruse Auction Family." She has dreamed of becoming the first woman auctioneer in the Guinness Book of World Records since she was a small child girl living in Houston.
GWS Auctions, LLC is scheduled to sell an exclusive, private island and a royal family collection at auction in June of 2016. Brigitte Kruse will also be conducting auctions in seven different countries between now and 2018.
When asked, Ms. Kruse wanted to say the following on the record:
"Be yourself, listen to the client, get the deal, uphold integrity, breathe and make history."
She went on to say that people like her grandfather Jack Kruse, her other grandfather Stephen Gamble, her cousin Matthew Kruse and Senator Dennis Kruse of the NAA Hall of Fame have been her most valued mentors.
Ms. Kruse earned her Graduate Personal Property Appraiser (GPPA) designation from the National Auctioneers Association (NAA) and is a USPAP compliant appraiser. She also serves as an ambassador for the NAA. She speaks several languages and is one of the only auctioneers in the world who can conduct professional auctions in five different languages. Her husband, Mike Sislyan, can also auctioneer in Russian and Armenian. This L.A. based, auction industry power-couple are an auction phenomena!
Outside of the auction industry, Ms. Kruse is a mother of two. In addition to working 18 hour days, she and her husband are also full-time providers for their six-year-old son and three year old daughter (who is being trained to be a future auctioneer).
Brigitte Kruse never stops and no one works harder at getting the sellers as much as possible through the auction method. This young lady is on the climb, and the auction industry is thriving with her!
About Brigitte Kruse and GWS Auctions, LLC
Brigitte Kruse is the sole owner of GWS Auctions, LLC, which has offices in Beverly Hills and three other locations in Southern California. She has relationships with auction houses worldwide. Ms. Kruse has sold millions of dollars' worth of real estate, abandoned property, antiques, jewelry and art in auction.
GWS Auctions is one of the industry's leading experts in abandoned property, eviction, real estate, antiques and jewelry auctions. She has worked with several of the nation's leading law firms and has assisted with royal family and celebrity estates.
For information about her upcoming auctions, please visit: http://www.GWSAuctions.com, or call Brigitte Kruse at: 877-958-1008.