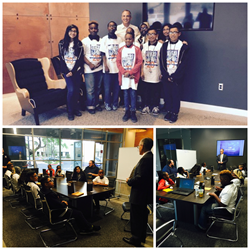 Having the opportunity to share my story and leave an impact on these children means a lot.
Las Vegas, NV (PRWEB) May 16, 2016
On Friday, May 6th, Bravo Pawn Systems CEO Steve Mack hosted the Las Vegas chapter of After School All-Stars - a non-profit organization that provides free out-of-school programs to keep children safe and opportunities to participate in sports, educational, cultural and community enrichment programs. In particular, students participating in the Career Exploration Opportunities Boss Life Program, which aims to help students learn to be self-sufficient adults, prepare for the 21st century economy and inspire long-term career planning, were in attendance.
A group of 9 students from Cashman Middle School came to the Bravo Headquarters Friday afternoon after school to listen to Steve Mack's journey to CEO and his advice to achieve success in business. After a short presentation, students asked questions like what Mr. Mack's biggest struggles were on his path to success, what programs were used in developing mobile apps, and what was his favorite aspect of being CEO.
"Giving back to the community has always been a priority of mine. Having the opportunity to share my story and leave an impact on these children means a lot. I hope they take the advice I gave them to continually keep learning so we can watch them blossom into the smart and talented human beings they are fully capable of being," says Steve Mack.
As a reward for attending, the students were given ice cream sandwiches, baseball tickets, and goodie bags on behalf of Bravo Pawn Systems. Steve Mack and the Bravo Pawn Systems team's goal is to give back to the local community by participating in outreach programs like After School All-Stars.
About After School All-Stars:
After School All-Stars provides dozens of free academic, athletic and cultural after-school programs to more than 6,000 youth at 13 at-risk schools throughout Clark County School District. ASAS nationally serves 82,000 youth in 13 cities each year.
About Bravo Pawn Systems:
Bravo Pawn Systems believes in the success of the pawn industry and strives to see pawnshops grow and compete with the national big box stores. Developed by a 4th generation pawnbroker specifically for pawnbrokers, Bravo helps companies find solutions to challenges they face with day-to-day operations.