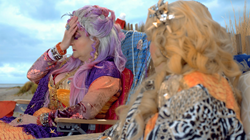 Medicare Mermaids was created to highlight the many absurdities that exist in today's political climate through comedy.
Los Angeles, CA (PRWEB) May 11, 2016
The Medicare Mermaids web series debuted March 14, 2016. As of May 9th "Medicare Mermaids" garnered more than 125,000 enthusiastic Facebook views while gaining thousands of dedicated followers throughout the U.S. who clamor daily for more episodes.
Progressive and liberal, Rozzie & Sheila are staunch Hillary Clinton supporters from head to tail who can always be found just off the Belt Pkwy in Canarsie, on their little island off the Brooklyn shore. Kibitzing and kvetching about politics, Rozzie and Sheila tackle big issues like protecting Medicare, gun control, marijuana legalization, Black Lives Matter, climate change and a Mermaid's right to choose, to name but a few. In Episode 5 Rozzie and Sheila turn their attention to the Presidential election and the battle between Hillary Clinton, Bernie Sanders and Donald Trump, with their typical comic flair.
Watch the latest escapades of Rozzie and Sheila Mermaid now at: Medicare Mermaids Episode #5.
Medicare Mermaids stars LB Zimmerman as "Rozzie Mendelbaum" and Susan J Sommer as "Sheila Rabinowitz". "We wanted to highlight the absurdities that exist in today's political climate, and 'Medicare Mermaids' just seemed like a funny way to do it. While we promote a progressive agenda, we also hope to encourage millennials to become more involved in the political system" says LB Zimmerman.
Editorial coverage is invited. We encourage sharing of the links and embeding of the YouTube links of the individual episodes in conjunction with editorial and review coverage of the Web Series including authorization to provide a link to http://www.MedicareMermaids.com.
YouTube Playlist: https://www.youtube.com/channel/UCxElftqDnCG3nveTSCvHDpA