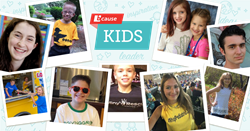 It's time to spread the word that fundraising is fun, and that charity is essential for all children" Andrew Moss, President of Booster, LLC
Boston, MA (PRWEB) May 10, 2016
Booster, LLC (http://www.booster.com), the social fundraising site that makes it easy to raise awareness and money for people and causes we care about, today announced the launch of B-Cause: Kids - a national awareness initiative to celebrate the next generation of American philanthropists, and to inspire more kids to be generous and giving.
"Since kids are our most important asset, Americans need to do whatever we can to ensure their well-being, to help them to become well-rounded citizens, and to teach them to give back," said Andrew Moss, President of Booster, LLC. "To celebrate that conviction: May is Kids' Month on Booster.com - time to spread the word that fundraising is fun, and that charity is essential for all children."
B-Cause: Kids -- Honoring Kids Making A Difference
In May 2016, Booster is honoring and showcasing extraordinary kids (from 7-to-16 years of age) who are standing up for people and causes they care about.
Drawn from communities across the U.S., these Kids Making A Difference have successfully designed their own custom t-shirts, then sold and promoted them through online t-shirt fundraising campaigns.
They're running campaigns to raise awareness and money for a range of charities including childhood cancer research, ending homelessness and hunger, rescuing sexually exploited and enslaved children, supporting childhood literacy, protecting endangered African wildlife, and other worthy causes.
While thousands of Americans of all ages have launched t-shirt fundraisers, here's fourteen cool kids who've recently designed cause-branded shirts and are now running live campaigns:
Devon Hirsch, 13 (Atlanta, GA)
Devon's "Giving Grub" Booster campaign supports No Kid Hungry in its mission to end childhood hunger.
Ella Csuka, 12 (Downingtown, PA)
Ella's Booster campaign supports the CURE4CAM Childhood Cancer Foundation to raise awareness and support for new and more humane therapies for childhood cancer.
Emmi Pinch, 11 (Charlotte, NC)
Emmi's campaign is focused on protecting and preserving Africa's wilderness and its wildlife by supporting the US Friends of the David Sheldrick Foundation/David Sheldrick Wildlife Trust that which operates the world's most successful orphan-elephant rescue and rehabilitation program.
Gavin Shamis, 13 (South Burlington, VT)
Gavin's Booster campaign will benefit ccThrive -- a nonprofit founded by his family whose mission is to help children thrive as cancer survivors.
James Rosato, 16 (Garden City, NY)|
All proceeds from James's "Luke's Lollies" Booster campaign go to Band of Parents, an organization that funds new therapies for neuroblastoma.
Jordan Belous, 16 (New York, NY)
Cool t-shirts from the B-Cause: Kids | Jordan Belous Booster campaign exclaim #WhipPediatricCancer! All proceeds will go to fund pediatric cancer research at Memorial Sloan Kettering Cancer Center.
Julien Leitner, 17 (Portland, OR)
Julien's Booster campaign supports The Archimedes Alliance, a nonprofit he founded in 7th grade to provide a vehicle through which ordinary people could unite to make an extraordinary difference in the lives of others.
Katie Elder, 15 (Milwaukee, WI)
Katie's "Kids Tales" Booster t-shirt fundraiser will supports her Kids Tales nonprofit and its program of offering writing workshops to elementary school kids.
Liam Fitzgerald, 10 (Northborough, MA)
The Help Liam #BUMPOUTCANCER" campaign is Liam's third Booster to raise awareness and money for The Leukemia & Lymphoma Society - the world's largest voluntary health agency dedicated to blood cancer.
Lucas Hobbs, 13 (Eagan, MN)
The "ChefLucasFood" Booster campaign supports a Minnesota-based nonprofit (founded by Lucas) to give kindness to communities and children battling cancer through food industry partnerships.
Nathan P., 8 (Illinois)
The "Nathan P.'s Destiny Rescue Kids" campaign supports Destiny Rescue USA, Inc. - a (501)(c)(3) Organization that rescues children from red light districts, brothels and sexually abusive situations worldwide.
Peyton Komer, 9 (Chicago, IL)
Peyton's "Sea Turtle Restoration Project" Booster campaign supports California-based Turtle Island Restoration Network, a leading advocate for the world's oceans and marine wildlife.
Best Friends Violet S. & Adeline H. 8 & 7 (Spokane, WA)
The "Girls Can Save The World" Booster campaign will benefit Blessings Under the Bridge, a Spokane-based organization whose mission is to feed, clothe, love, and serve the homeless.
For more detail on each kid and their campaign, click here to read:
"14 Fundraisers From Kids Making A Difference"
To support any of the kids' campaigns, click on the respective campaign links above or go here for more information and to see a video of the #BCauseKids.
"Since Booster.com launched under three years ago, we've been amazed and impressed that elementary, middle and high school students across the country, are passionate about giving back and are converting their charitable beliefs into action by running Booster t-shirt fundraisers," said Andrew Moss. "Research shows that children who begin volunteering in their youth are twice as likely to volunteer as adults! Looking ahead, we hope that more grownups will follow the example of these compassionate and caring kids by launching campaigns of their own."
About Booster
A unique combination of technology and heart, Booster (http://www.booster.com) is the best way to raise money and awareness for your cause, passion or project. Its social fundraising platform provides simple online tools that make it easy to rally support from friends, family and the community. Anyone can use Booster to sell t-shirts or other merchandise without having to buy or handle inventory, and also accept donations for additional support. Booster was created by CustomInk (http://www.customink.com), the leader in custom t-shirts for groups and occasions. Since its launch in 2013, Booster.com has hosted thousands of t-shirt fundraisers raising more than $20 million for worthy causes through supporters' purchase of more than 1 million shirts and add-on donations. Visit Booster at http://www.booster.com, follow us on Twitter: @BoosterLLC, and like us on Facebook.
###