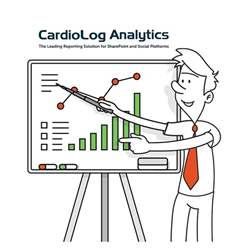 Boston, MA (PRWEB) May 09, 2016
The CardioLog Analytics team will be collaborating with Portal Solutions for an upcoming webinar, "Establishing a Successful End User Adoption Strategy". The webinar will take place on Tuesday, May 24th at 11:00 AM EST.
A well planned out end user adoption strategy is critical for creating a successful SharePoint portal. But how do you know your return on investment is actualized?The answer lies within one simple word: Adoption.
Developing an end user adoption strategy and ways to measure the impact of the strategy are an important exercise for any portal initiative. By learning how to establish an end user adoption strategy, SharePoint users can facilitate engagement and collaboration with the user body, and establish mechanisms to generate metrics.
Join CardioLog Analytics and Portal Solutions on May 24th at 11am EST for a free webinar, as Jill Hannemann of Portal Solutions and Yarin Negri of CardioLog Analytics discuss creating a successful end user adoption strategy and talk about different ways to measure adoption success.
In this webinar the teams will:

Talk about different ways to measure adoption success
Showcase CardioLog's user adoption tool
Share ways to generate reports and metrics to enhance engagement, collaboration and optimization to transform the portal effectively
Register today for this interactive session. Space is limited.
All registrants will receive a link to the webinar recording after the event.
About Intlock:
Intlock, developer of CardioLog Analytics, has been a leader in the field of analytics for SharePoint, Office 365 and Social Platforms for over 10 years. Their product - CardioLog Analytics - provides web-analytics and online marketing solutions for SMB and enterprise-level intranet portals and websites. CardioLog Analytics, delivers deep insights into the performance of portal, web and social platform initiatives through testing, tracking and targeting, ultimately enabling organizations to optimize their portal's impact and maximize their return on investment. The solution is available for both On-Premises and SaaS deployments.
Intlock is led by a team of experts in the fields of application development, knowledge management, web analytics, portal monitoring and control, and software engineering. Its products and solutions are installed in organizations from various industries, including financial services, government, telecommunication, entertainment services and others.
Intlock firmly believes that partner alliances are a beneficial way to help enhance the product as well as strengthen alliances within the SharePoint and Office 365 communities. By working together, cost effectiveness and ease of implementation are greatly improved. Partner alliances shorten implementation times and enable the adaptation of the products to any technological environment a customer may have. To partner with Intlock, please contact here.