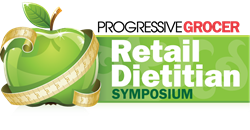 Deerfield, Illinois (PRWEB) May 10, 2016
Stagnito + Edgell's Progressive Grocer will honor three retail dietitians with an Outreach Innovation Award at its Retail Dietitian Symposium, on May 24, 2016, in Chicago, recognizing the creativity and effort of programs developed by retail dietitians to benefit their shoppers and surrounding communities.
"From providing basic nutrition education to helping consumers purchase and prepare foods for specific health conditions, retail dietitians not only educate and inspire, they create added value to grocery retail banners," says Jeffrey Friedman, VP and Group Publisher, Stagnito + Edgell. "The RD Outreach Innovation Awards recognize the passion and creativity retail dietitians use to connect with shoppers."
Criteria considered for the outreach awards includes success – based on consumer participation and response, increased traffic to a store, sales increases, press coverage, and more; the resources that went into building the program; and the degree to which the program supports the banner's mission.
Winners include:
Mary Snell, director of health and wellness, Indianapolis-based Marsh Supermarkets, for "Fresh Ideas for Education & Guiding Stars," which adds to the company's support for schools with bonus points for purchases of Guiding Stars products.
Alicia Jerome, health and wellness manager, on behalf of the Texas-based The United Family of Stores retail dietitians, for the "Color Your Basket" extension of the company's "Build a Better Basket" program. Each month, the Color Your Basket initiative highlights the value of adding a different color to the diet, which includes education on not just produce, but the nutritional value of "colored" products throughout the store.
Alyson Fendrick, corporate dietitian, Homeland Stores, Oklahoma City, for her "Get Healthy Challenge," which provides intense support for both customer and store associate participants throughout a 14-week program to make sustainable, healthy decisions for themselves and their families.
"Grocery retailers are increasingly aware of their role in supporting consumers' efforts to live healthier lives," says Friedman, "and the Progressive Grocer RD Outreach Innovation Awards shine the light on some of the best efforts RDs are making to support that mission."
Stagnito + Edgell's Progressive Grocer has attained Continuing Professional Education (CPE) Accredited Provider status from the Commission on Dietetic Registration (CDR), the credentialing agency for the 75,000-member Academy of Nutrition and Dietetics — the world's largest organization of food and nutrition professionals. Attendees to PG's 4th annual Retail Dietitian Symposium will earn valuable continuing education credits. This is the first year that PG will present the Retail Dietitian Outreach Innovation Awards.
About Stagnito Business Information and Edgell Communications:
Stagnito + Edgell has created the definitive Business Intelligence Resource for retailers, retail suppliers, and technology vendors. The company informs, connects, and provides predictive analysis through custom and syndicated research, data, media, and events. Customers have access to business intelligence throughout the retail product lifecycle—from initial consumer interest to final shopper satisfaction—including product creation, marketing, and distribution; category management; retail merchandising; and point of sale.