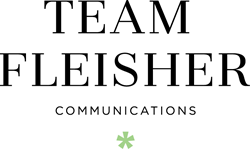 We view all our clients as special and unique, and work extremely hard to tailor our communication initiatives to their goals and objectives..the results we deliver, are the keys to our success.
Columbus, Ohio (PRWEB) May 13, 2016
Team Fleisher Communications is pleased to announce recognition by the Central Ohio chapter of the Public Relations Society of America (PRSA) as this year's winner of a prestigious PRism award and a PRism Award of Excellence. This marks the third consecutive year that Team Fleisher has won multiple awards for exceptional public relations (PR) activities. Team Fleisher was honored with the 2016 PRism award for its multifaceted campaign in the area of crisis communications and the Award of Excellence for marketing communications of existing products.
"It is a very special honor to be recognized by PRSA for the recent campaigns we created and implemented for two of our clients," said Team Fleisher founder Marcy Fleisher. "We view all our clients as special and unique, and work extremely hard to tailor our communication initiatives to their goals and objectives. We never lose sight of the fact that the partnerships we form with them, and the results we deliver, are the keys to our success."
In March 2015, the City of Bexley, a suburb of Columbus, Ohio, and the Bexley Area Chamber of Commerce were at the center of a growing national debate regarding discrimination against individuals based on sexual orientation. The controversy arose when a Bexley photographer and Chamber member declined to video a same-sex wedding. Through social media, the couple quickly directed criticism at the photographer and the Bexley Chamber, drawing both local and national media attention. Concerned about public perception, negative publicity, and the loss of both credibility and membership, the City and Chamber retained Team Fleisher Communications to manage the crisis.
Team Fleisher developed and implemented a multi-faceted crisis communications campaign that consisted of positive message creation, media training for spokespersons, internal communication to Chamber members and Bexley residents, and outreach to media through traditional and social media channels. Within one day, the tone of the news coverage changed. News stories, as well as social media posts, began to reflect the positive action the City and Chamber planned to take against sexual discrimination. This shift resulted in far fewer critical comments, and focused on giving the City and Chamber the time to evaluate the situation and move forward with real intent and purpose. Three months after the crisis, the City Council of Bexley voted unanimously to pass a non-discrimination ordinance. The City had used this crisis to come together to stand against discrimination. Team Fleisher Communications was proud to be a part of this initiative. In 2014, Team Fleisher also won a PRism award for its crisis communications work involving the largest and deadliest Legionella outbreak in Ohio history.
Osborn Barr, a St. Louis-based advertising agency, turned to Team Fleisher for help with one of its clients.The United Soybean Board, a group of farmer-directors who oversee the investments of the soy checkoff to maximize profit opportunities for all U.S. soybean farmers, was looking for ways to educate farmers about the high oleic soybean business and its benefits. Osborn Barr was looking for a partner to assist them in reaching local consumer media markets in order to reach farmers and encourage them to grow more high oleic soybeans.
Together, Osborn Barr and Team Fleisher launched an outreach initiative focused on the annual Columbus Food Truck Festival, which attracts more than 40,000 people over a three-day period. Three participating food trucks agreed to cook with high oleic soybean oil, and several industry and farm leaders were enlisted to talk about high oleic soybean oil and its benefits for food companies.
In preparation for the event, messaging documents were targeted to consumers and farmers, and media training was provided to each of the truck operators. At the same time, the festival's social media channels, as well as those of the Board and the food trucks, were used to build buzz and momentum. A carefully constructed pitch was delivered to a unique list of influencers and media outlets statewide, followed by personal phone calls in order to secure coverage.
Team Fleisher had three weeks to deliver media coverage. One dozen media stories were secured, with one-third of them live coverage from the festival. The earned media was then leveraged in social media and in marketing collateral sent directly to Ohio farmers, consumers and those in the food industry.
Team Fleisher, along with other award recipients, was recognized at the 2016 PRism Awards dinner held at The Columbus Athenaeum on Thursday, May 12.
Tweet This: Proud to win 2016 #PRism awards for crisis communications PR work and marketing communications. #WeveGotThis TeamFleisher.com
About Team Fleisher Communications
Team Fleisher Communications delivers outstanding communications solutions based upon decades of experience. We have a proven track record of securing results for organizations ranging from start-ups to Fortune 500 companies. As senior-level communicators and former journalists, we understand how to tell stories, pitch reporters, secure earned media and leverage coverage. We work fast and efficiently to get the job done right. And we deliver results – always. For more information visit TeamFleisher.com.