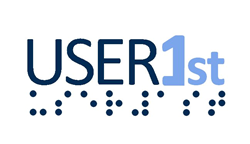 Carahsoft fully supports User1st's mission in providing easily accessible websites to all of our government employees and citizens
WASHINGTON, D.C. (PRWEB) May 10, 2016
User1st, a web accessibility company, today announced a partnership with Carahsoft Technology Corp., the trusted government IT solutions provider. Under the agreement, Carahsoft will make User1st's quick-deploy, cloud-based automated accessibility software system available to the public sector via Carahsoft's GSA schedule.
User1st's accessibility software helps agencies and businesses comply with domestic and international web accessibility standards according to the Web Content Accessibility Guidelines, including Section 508 of the Rehabilitation Act. Section 508 of the Rehabilitation Act was amended by Congress in 1998, and requires all federal agencies to make their electronic and information technology accessible to people with disabilities. Section 508 mandates that agencies provide disabled employees and members of the public access to information that is comparable to access available to the general public.
"Carahsoft fully supports User1st's mission in providing easily accessible websites to all of our government employees and citizens," said Tiffany Goddard, Director of Citizen Engagement Solutions at Carahsoft. "Through this partnership, we are able to offer our resellers and government agencies the ability to easily and cost-effectively provide all users with an enjoyable and helpful online experience."
A User1st treated website provides a layer of code and additional informational to a host site, while maintaining the site's original structure and information architecture. User1st's automated "code-fixer" corrects existing web pages by generating and applying accessibility skins that fit over the web page without altering its content. The system can be activated automatically or by the request of a unique end-user by a single click of a button. Different accessibility skins accommodate different needs for different disabilities, such as partial/complete blindness, epilepsy, motor disability and more.
"Being part of Carahsoft's IT Schedule 70 contract is a tremendous accomplishment for us. It validates our product and business model. We are very excited about the prospect of working with federal agencies to help them comply with the mandates of Section 508 of the Rehabilitation Act," said Amihai Miron, Co-Founder and CEO of User1st.
User1st's cloud-based accessibility software solutions are immediately available via Carahsoft's GSA Schedule No. GS-35F-0119Y. For more information, contact User1st at n(dot)levy(at)user1st(dot)com or join bronze-level event sponsor User1st at Carahsoft's Citizen Engagement Seminar on Thursday, June 16 in Washington, DC.
About User1st:
Launched in January 2014, User1st provides an overlay system that enables businesses, organizations and governments to meet the web accessibility requirements of Section 504 and 508 of the Rehabilitation Act and the Americans with Disabilities Act. A User1st treated website provides a layer of code and additional information to a host site, while maintaining the site's original structure and information architecture. This means that there is no need for fundamental changes or additional code to the initial content, thereby cutting both time and cost associated with achieving accessibility compliance. Check out our blog for web accessibility related news and updates.
Contact:
Neil Levy
240-468-4918
n(dot)levy(at)user1st(dot)com
About Carahsoft:
Carahsoft Technology Corp. is the trusted Government IT solutions provider. As a top-ranked GSA Schedule Contract holder, Carahsoft serves as the master government aggregator for many of its best-of-breed technology vendors, supporting an extensive ecosystem of manufacturers, value-added resellers, system integrators, and consulting partners committed to helping government agencies select and implement the best solution at the best possible value.
The company's dedicated Solutions Divisions proactively market, sell and deliver VMware, Symantec, EMC, Adobe, F5 Networks, Open Source, HPE Software, SAP, and Innovative and Intelligence products and services, among others. Carahsoft is consistently recognized by its partners as a top revenue producer, and is listed annually among the industry's fastest growing firms by CRN, Inc., Washington Technology, The Washington Post, Washington Business Journal, and SmartCEO. Visit us at http://www.carahsoft.com.
Contact:
Mary Lange
703-431-8485
mary(dot)lange(at)carahsoft(dot)com