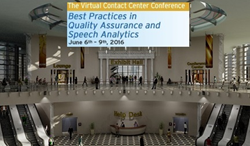 (PRWEB) May 11, 2016
CRMXchange, now in its 20th year of providing high-level education to the contact center/customer experience community, has posted the schedule of 11 interactive, in-depth webcasts for the Virtual Contact Center Conference – Best Practices in Quality Assurance and Analytics to be held online June 6-9. The event is produced in association with the Quality Assurance and Training Connection (QATC). Registration is free at http://www.ecrmevents.com
The event recognizes the essential value of creating effective quality programs for the contact center environment. A well thought-out quality assurance program provides organizations with vital information for planning, training and incentive programs to improve both the performance of individual agents and the entire team, which in many cases is now a blend of in-house, remote and outsourced representatives. With customers using an increasingly wide range of channels to contact companies, quality assurance programs will monitor performance across all touch points, while capturing business intelligence by tapping directly into the customer's insight about a specific business.
Now entering its 9th year, the virtual conference allows contact center teams to participate in expert-led, live workshops without incurring travel costs or time out of the office. It also provides flexible educational options that no live event can match. If the scheduled times and dates of conference sessions are not convenient, all webcasts will remain online to registrants for 7 days following the event.
As an added benefit, attendees can "meet" with solution providers in the virtual exhibit hall; obtain product information; download product videos, press releases, and white papers. Participants can also chat with presenters and peers in the virtual lounge, an interactive networking forum. CX/Contact Center professionals can learn what their peers are doing, meet colleagues, pose questions, and share insights.
The conference's keynote presentation, Transformational Leadership: Leading the people that drive process will be presented on Monday, June 6th at 12:00 noon ET by Penny Tootle, Customer Care Manager, Las Vegas Valley Water District. This thought-provoking conference kick-off will explore why it's crucial for business leaders to effectively engage the front line personnel to effectively influence the processes that shape the customer experience.
Additional conference presentations include:

5 Processes to Take Quality Management to the Next Level; Sponsored by Aspect
Putting the Customer First in Your Quality Efforts; Sponsored by Verint
Calibrating to Create Consistency; Sponsored by inContact
Elevate the Customer Experience by Improving Agent Satisfaction and Performance; Sponsored by CallMiner
Hiring, Training, and Coaching the Emerging Leaders in Your Contact Center; Sponsored by HireIQ
Putting the Customer First in Your Quality Efforts; Sponsored by Verint
Caller Experience Metrics: How to Measure and Manage; Sponsored by AVOKE
Agent Coaching: Delivering Meaningful Feedback & Positive Reinforcement to Motivate & Shape Performance; Sponsored by NICE
40-20 Ideas in 60 Minutes; Hosted by Vicki Herrell
More than 1,200 QA and Analytics specialists from across the globe are expected to attend. For more information about this or other virtual conferences presented by CRMXchange, contact info(at)crmxchange(dot)com or call 941-702-8389
About CRMXchange
Founded in 1995, CRMXchange has long been recognized as a premiere destination on the Internet for the exchange of information and ideas on customer relationship management, sales, contact center, and telemarketing issues. Today, the site offers a wide variety of resources for CRM professionals. CRMXchange has developed unique insights into the kinds of business intelligence and professional development programs required for successful contact center operations. CRMXchange has gained a reputation as an expert in the hosting and marketing of webcasts and other online events.
About QATC
The Quality Assurance & Training Connection (QATC) is a membership association created specifically for quality assurance and training professionals in the call center. QATC provides its membership with a variety of benefits, including tips of the week, how-to newsletters, regional networking meetings, online forums, and an annual conference. The QATC Advisory Board provides leadership and directs many of their activities. The Board is composed of recognized call center leaders and industry experts.