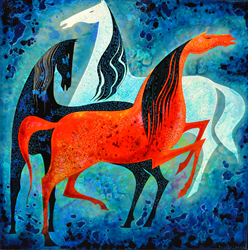 "For 70 years, I've painted paintings, and I'm constantly and everlastingly overwhelmed at the stupendous infinity of nature," Earle wrote in 1996.
Glendale, California (PRWEB) May 10, 2016
An Exhibit of a Disney Legend marks the first major exhibition in Los Angeles in 25 years for artist Eyvind Earle (American, 1916–2000), and will bring together more than 65 works spanning seven decades that highlight Earle's legacy, distinctive style—mysterious, primitive, disciplined, and nostalgic—and remarkable technical skill, including three background paintings from the film Sleeping Beauty (1959) on loan to Forest Lawn Museum from the Walt Disney Animation Research Library.
On view at Forest Lawn Museum, Eyvind Earle: An Exhibit of a Disney Legend will feature original oil paintings, watercolors, drawings and sketches, many never seen before on public display, from May 20, 2016 through January 1, 2017.
Earle's work, found in the personal collections of filmmakers Guillermo del Toro and Peter Jackson, writer Dean Koontz and others, is recognized for its truly original perception of landscape that simultaneously captured the grandeur and simplicity of the American countryside. His work portrayed the natural landscape's atmosphere, color and lighting, and conveyed, through suggestions of distance, landmass and mood, a magical, awe-inspiring ghostliness of the elements. This exhibition celebrates Earle as one of the most innovative landscape masters of his time—inspiring a new generation of artists working today.
To this day, much of Earle's work remains unclassifiable—neither contemporary nor classic—with perhaps one of the more predominant features of his master landscapes being large geometric forms, employed to their fullest to bring a supernatural aura to everything from hills to distant waves. Earle's unique technique has been praised for its delicate mood as much as its meticulous attention to detail.
During his long and prolific career, Earle also embraced various artistic mediums, including book illustration, animation, watercolor, oil, sculpture, drawing, serigraphy, and poetry.
EARLY YEARS
Born 100 years ago in New York and raised in Southern California since the age of two, Eyvind Earle began painting at the age of 10. In 1927 his parents divorced and he was kidnapped by his father, Ferdinand Earle, who took him traveling over the next four years through Mexico, Cuba and Europe. During this time, his father gave him a challenging choice: read 50 pages of a book or paint a picture every day. Earle chose both. By the age of 14, Earle had enough work to launch his first one-man showing in France.
A year later, Earle left his father in Europe to return home to his mother in Hollywood. He feared he would never paint again because he would not be forced to. But when he was 15 he had a great desire to spend more time painting and he dropped out of Fairfax High School shortly before his graduation. Soon after, he took a job as an assistant sketch artist at United Artists studio.
By age 21, Earle bicycled across the country from Hollywood to New York City, paying his way by painting 42 watercolors and showing the work in New York in a series of one-man shows. He sold his first watercolor to the New York Metropolitan Museum of Art for their permanent collection when he was only 23.
Earle's earliest work was strictly realistic, but after having studied in his twenties a variety of masters such as Vincent Van Gogh, Paul Cézanne, Norman Rockwell, and Georgia O'Keefe, he came into his own unique style—an oeuvre characterized by a simplicity, directness and surety of handling.
Beginning in the 1940s and continuing for five decades, Earle adapted his creative landscapes to Christmas cards, painting more than 800 designs that have sold more than 300 million copies.
In 1943, the American poet William Carlos Williams commissioned Earle to create a painting for his home in Rutherford, New Jersey. "View Under the Bridge," is a monumental 13-by-6-foot oil on canvas depicting the construction of New York City from a view under the bridges of Manhattan. It is counted among Earle's early and rarest works and had not been seen by the public until it was recently restored and placed on permanent loan to the World Trade by the granddaughter of Williams.
WALT DISNEY STUDIOS®
In 1951, Earle joined Walt Disney Studios as an assistant background painter. Earle intrigued Walt Disney in 1953 when he created the look of Toot, Whistle, Plunk and Boom, an animated short that won an Academy Award® and a Cannes Film Festival Award. Earle was kept busy at Disney for the better part of a decade, painting the settings for such stories as Peter Pan (1953) and Lady and the Tramp (1955), as well as the animated shorts Working for Peanuts (1953), For Whom the Bulls Toil (1953), Pigs is Pigs (1954) and Paul Bunyan (1958). Earle was responsible for the styling, backgrounds and colors for the highly acclaimed Sleeping Beauty, giving the movie its magical, medieval look. Earle's lead on Sleeping Beauty would become the pinnacle of his work for Disney.
Earle's striking designs for Sleeping Beauty broke the mold, and the film's castle and forest scenes were the first to incorporate pre-Renaissance Gothic motifs with ideas borrowed from Persian miniature paintings and Japanese prints. His ambitious design and intense dedication to detail on each of Sleeping Beauty's backgrounds continue to be the main force behind the movie's classification as one of the most artistically distinct and best-looking Disney films to date.
Earle was also responsible for painting the dioramas for Sleeping Beauty Castle at Disneyland®. Subsequently, La Chateau de la Belle au Bois Dormant, Sleeping Beauty Castle in Disneyland® Paris, based its surroundings on Earle's film designs.
"I first fell in love with the work of Eyvind Earle as a young girl when I saw it in Sleeping Beauty Castle at Disneyland, and I've admired it ever since," said exhibition curator Joan Adan De Santis. "What a thrill to be curating the retrospective of his work so many years later."
In 1960, Earle founded his own motion picture animation company, Eyvind Earle Productions, Inc., creating the trailer for West Side Story (1961), the title for the Kraft Suspense Theatre, and the logo trademark for Universal Pictures. He also created television commercials for Chrysler, Chevrolet, Motorola, Kellogg's, among others. Earle's animated creations saw success with various animated television specials, most notably the long-running version of the Nativity created for Tennessee Ernie Ford's Story of Christmas Special (1963).
In 2015, the Walt Disney Company posthumously awarded Earle the prestigious Disney Legend® Award for his work on Sleeping Beauty and contributions to animation, accepted by his daughter, Kristin Thompson of Seattle.
LANDSCAPES
After about 15 years of making animated art, Earle returned to painting full time in 1966 and kept working until near the end of his life. In addition to his watercolors, oils, sculptures, drawings and scratchboards, in 1974 he began making limited edition serigraphs. His work captures the grandeur and simplicity of the American countryside with lyric ardor.
"For 70 years, I've painted paintings, and I'm constantly and everlastingly overwhelmed at the stupendous infinity of nature," Earle wrote in 1996, during a time late in his career when his work was receiving a renaissance of acclaim. "Wherever I turn and look, there I see creation. Art is creating. Art is the search for truth."
Eyvind Earle: An Exhibit of a Disney Legend makes publicly accessible—many for the first time-- these unique works thanks to his family's personal collection, loans by other private collectors, and Eyvind Earle Publishing LLC in Monterey, California, where Earle spent the last years of his life capturing the landscape on canvas. Featuring a mix of paintings and early drawings, this exhibition includes captivating works such as: Ancient Forest, Silent Meadow, Paradise, Three Noble Horses and Purple Fog, which was one of Earle's personal favorites. Eyvind Earle died on July 20, 2000 at the age of 84.
An Exhibit of a Disney Legend is a uniquely California-centric exhibition that builds on Forest Lawn Museum's ongoing efforts to present subjects and installations that resonate with contemporary society and today's broader cultural context.
Forest Lawn Museum has been named one of the Top 10 Free Museums in the country by Yahoo Travel. It is located on the 290-acre Forest Lawn Memorial Park–Glendale, where Earle's father and brother are interred, and which has been a renowned Southern California landmark since 1906. Featuring a stunning array of art, architecture and three beautiful chapels—Forest Lawn Museum is committed to enriching the community through the educational presentation of artwork that focuses on history, culture and religion.
Eyvind Earle: An Exhibit of a Disney Legend will be open to the public from May 20, 2016 through January 1, 2017 at the Forest Lawn Museum, Forest Lawn-Glendale, 1712 S. Glendale Blvd., Glendale. Admission and parking are FREE. Call 800-204-3131 or visit http://www.forestlawn.com for more information. Related events will be announced shortly. The exhibition will be accompanied by a full-color brochure.
# # #
For additional information about the exhibition, Forest Lawn Museum, Forest Lawn Memorial Park – Glendale, or to request images or interviews, please contact Beth Laski at p: 818.986.1105; m: 818.300.5424; beth(at)bethlaski(dot)com.
About Forest Lawn–Glendale
Founded in 1906, Forest Lawn has been a Southern California landmark for more than a century. With rolling hills, sweeping landscapes and a magnificent view of the Los Angeles skyline, Forest Lawn–Glendale is one of Forest Lawn's most picturesque locations. It features a world-renowned art museum, extraordinary statuary and the Hall of the Crucifixion-Resurrection, home to Jan Styka's immense painting, The Crucifixion, and Robert Clark's Resurrection, two of the largest religious paintings in the western hemisphere.
Location, Hours, Admission
Forest Lawn–Glendale is located at 1712 South Glendale Avenue, Glendale, CA 91205. The Memorial Park is open seven days a week from 8 am to 5 pm (6 pm during DST). The Great Mausoleum and Memorial Park churches are open seven days a week from 9 am to 4 pm. Mortuary visitation hours are seven days a week 8 am to 9 pm. For more information, visit the Forest Lawn website at http://www.forestlawn.com, Facebook at facebook.com/forestlawn or Twitter @ForestLawn, or call 888.204.3131 (for international calls +1.323.254.3131).
About the Forest Lawn Memorial Parks
For more than a century, Forest Lawn has been an integral part of Southern California. Since its founding, Forest Lawn has committed itself to providing outstanding service and beautiful environments for family outings, remembering loved ones and commemorating holidays. Forest Lawn's locations in the Los Angeles, Orange and Riverside counties serve all faiths and cultures, and offer a wide range of celebrations and special events with competitively priced cremation and traditional funeral services throughout Southern California.