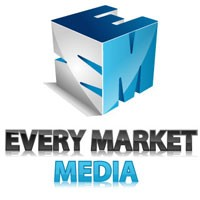 We're already publishing more data than firms four times our size and we intend to continue to raise the bar for the quality and quantity of our outputs
Chicago, Illinois (PRWEB) May 10, 2016
The US B2B sales and marketing environment's appetite for data certainly didn't slow down in Q2 '16 according to executives at Chicago based email compiler Every Market Media (EMM).
Q2 2016 saw EMM buying, processing and preparing more US B2B email marketing data by the gigabyte. Improvements in moving data through ingestion processes have resulted in more B2B prospects of higher quality than ever published before.
Notable highlights:

Refreshed all delivery statuses with mailing results generated 4/1/16 – 5/1/16
Published 5,184,881 million new contacts
CASS standardized all addresses
Improved percentage direct dials
Reduced "unknown" Job Function categories to near zero
Hot off the presses this file is the first high volume proof of concept using 100% EMM verification and on-boarding methodology. These changes make more, higher quality data, available to their Strategic Partners and List Broker clientele.
"It's a lot of data," says COO Amanda Kohl, "but with thoughtful hardware and script upgrades, we didn't miss a beat."
In summary, CASS standardization allows for better match rates to client files and within EMM's own sets. Fresh verification statuses mean only the highest deliverability levels from their Double Verified records with more sales prospects being reachable at a direct line.
With 5.1 million new published records (@43% direct dial!) cataloged on an improved Job Function table, you can be sure your client will find the data they need with EMM.
EMM's Founder Rick Holmes had this to say about the update: "This set illustrates our team's ability to onboard and process tens of millions of B2B contact records. We're already publishing more data than firms four times our size and we intend to continue to raise the bar for the quality and quantity of our outputs.".
An anonymous EMM client perhaps said it better after receiving their update file: "Holy smokes, you've been busy!"
Yes, we have.
For complete information, press inquiries, samples, layouts or counts, contact EMM.
Contact:
Mark Sheehan
312-219-9653
Mark(at)everymarketmedia(dot)com