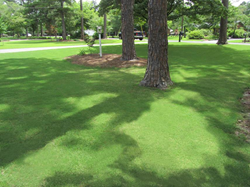 TifTuf™ sets the new industry standard for sustainability and drought resistance. It is destined to become a customer favorite for both residential and commercial applications.
Whitesburg, GA (PRWEB) May 11, 2016
The turfgrass industry invests a great deal of time and effort researching ways to improve sustainability and reduce water consumption. TifTuf™ Bermudagrass, the newest cultivar acclaimed for superior drought resistance and minimal water requirements, is now available for purchase from NG Turf.
TifTuf™, originally bred in 1992 at the University of Georgia's Tifton campus, was one of more than twenty-seven thousand cultivars studied. Throughout more than two decades of testing, Tiftuf™ proved itself to be the best performing cultivar under drought conditions. Among the 90 cultivars that passed initial drought tolerance testing, TifTuf™ maintained its quality and green color the longest.
Further testing included 19 drought stress trials, 2 traffic stress trials, and 4 irrigated non-stress trials at universities across the country. In 2013, TifTuf™ was entered into the National Turfgrass Evaluation Program (bermudagrass trials) where it scored highest in quality ratings in North Carolina, Florida, Mississippi, Tennessee, Texas, Oklahoma, and California, and excellent ratings in Alabama, Georgia, Indiana, Kansas, Kentucky, and Missouri.
"TifTuf™ sets the new industry standard for sustainability and drought resistance," explains Aaron McWhorter, President of NG Turf. "Not only does it actually need less water to thrive, it boasts superior wear tolerance, early spring green up, excellent fall color retention, and rapid grow-in rates. TifTuf™ is destined to become a customer favorite for both residential and professional applications."
TifTuf™ has fine, bright green blades and a rapid growth rate, allowing for faster establishment and quicker recovery from injury. It also displays superior insect and disease resistance; grows well in both sun and shade; maintains a healthy appearance even under heavy traffic; and maintains density, color, and vigor while using less water than other varieties. Like all bermudagrasses, TifTuf™ is a warm season turf, going dormant in winter, so TifTuf™ can be harvested and installed year round.
McWhorter adds, "Initially, researchers thought TifTuf's excellent performance under drought conditions was due to a deeper root system, but further studies showed that it actually uses less water to thrive – an impressive 38% less water than TifWay, the current industry-standard bermudagrass. What an incredible benefit to us here in the south with our frequent hot, dry summers."
The Turfgrass Group, co-owned by Aaron McWhorter and Ken Morrow, is the exclusive licensing company for the production of TifTuf ™ bermudagrass.
Ken Morrow reports, "With the extreme drought conditions recently experienced in California and around the United States, there has never been a greater need for a drought-tolerant grass like TifTuf™. We know it will create sustainable, environmentally friendly lawns, sports fields, and golf courses around the country that use significantly less water than other grasses available on the market today."
To learn more about TifTuf™, or any of their ten other proprietary sod varieties, please contact NG Turf at (770) 832-8608 or visit them online at ngturf.com.
About NG Turf
NG Turf is a family-owned and operated turfgrass grower with six farm locations across Georgia. Members of the Urban Ag Council, the Georgia Green Industry Association, and certified by GCIA (the Georgia Crop Improvement Association), their 11 proprietary varieties of sod include Zeon Zoysia; TifTuf™, TifGrand and TifWay Bermuda; Rebel Supreme Fescue; and TifBlair Centipede. Founded in 1985, NG Turf grows and supplies top-quality turfgrass for landscape professionals, golf course developers and superintendents, athletic field managers, municipalities, and homeowners. http://www.ngturf.com
About The Turfgrass Group
The Turfgrass Group, founded in 1997 by Aaron McWhorter (NG Turf) and Ken Morrow, is a Georgia-based turfgrass licensing company committed to identifying advancements in turfgrass breeding technologies, natural resource management, and environmental stewardship. The Turfgrass Groups licensed cultivars include Zeon Zoysia, TifTuf™ and TifGrand Bermuda, JaMur Zoysia, and TifBlair Centipede. http://www.theturfgrassgroup.com