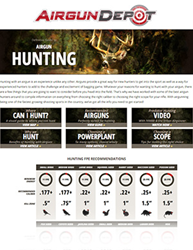 Draper, Utah (PRWEB) May 11, 2016
Airgun Depot, headquartered in Draper, Utah, has released an airgun hunting guide that is one of the most complete of its kind. The guide is particularly comprehensive towards the many questions surrounding airgun hunting such as which states allow airgun hunting, and what caliber and power is needed to take game humanely. Very little has been previously published concerning this rapidly growing sport.
Most firearms enthusiasts have fond memories of the airguns of their youth, hunting the wilds of their neighborhoods with their trusty Daisy's or their Crosman 760's. No bird, squirrel, or rat was safe when a kid was learning the fundamentals of hunting and gun safety while stalking their prey with one of these iconic weapons.
Today's high-tech airguns are far superior to their latter day forebears. The airguns being produced today rival their gunpowder-based cousins in accuracy and performance. Many shooters are surprised to find that they are available in a wide range of larger calibers, including .357, .40, .45, all the way up to .50. And since they don't have the same range capability as a firearm, they can be safely, and legally, used in most urban environments. Many of these airguns are also integrally suppressed, but yet unlike firearms, don't require NFA paperwork and can be shipped to your door.
The Airgun Depot hunting guide features a map detailing where it's legal to hunt with an airgun in the U.S. Currently it's legal for at least small game in every state of the union, with the exception of Pennsylvania and New Hampshire and some of the U.S. territories. The guide discusses airgun hunting for all types of game, from smaller game like birds, squirrel, rabbit, and varmints, up to deer and hogs, and everything in between. It includes the recommended minimum muzzle energy for each type of game, and tips for successful hunting with an airgun.
Founded in 2002, Airgun Depot quickly became the fastest growing airgun e-retailer in the United States. Now, well into the company's second decade, Airgun Depot has proven itself as the leading innovator in providing excellent resources and exclusive content while growing and maintaining a strong connection with the airgun community. Airgun Depot takes great pride in working with leading-edge airgun manufacturers to provide recommended airgun hunting rifles and pistols suitable for small and large game.