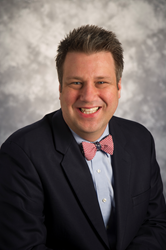 Appleton, Wis. (PRWEB) May 11, 2016
Weisbrod will be responsible for the planning and execution of shared learning events, as well as building Network member relationships and helping members implement lean.
"I'm confident Chris will bring added value to our Network members," said Paul Pejsa, director of HVN. "His experience in lean implementation in healthcare and extensive leadership skills make him an excellent match for this role."
At Akron Children's Hospital, Weisbrod implemented several initiatives to instill a culture of continuous process improvement throughout the organization while also working with physician leadership in managing multiple value streams. He held various roles at Children's, including medical audio visual manager, lean six sigma deployment director, and his most recent title, administrative director of surgical subspecialties. Weisbrod also earned Lean Six Sigma Black Belt certification from the Ohio State University, which he is sure to put to good use as manager of HVN.
"I'm thrilled to be working at the Center," said Weisbrod. "Lean is one of my passions, and I look forward to helping Network members get the resources and education they need to accelerate their lean journeys."
Weisbrod has a background in communications and business operations. He received his bachelor's degree from the University of Toledo in communications, and he earned his masters' degrees from Ashland University and The Ohio State University in business administration and business operational excellence, respectively. "The Ohio State MBOE program does an excellent job in preparing graduates to lead organizations in their lean transformational journey," said Weisbrod.
He replaces Jack Bowhan, who worked closely with Network members to develop learning opportunities for the past several years. Bowan now moves on to an active retirement as of June 16 and will remain a close friend to the Center.
ThedaCare Center for Healthcare Value
The ThedaCare Center for Healthcare Value is an education institute that believes we must have three essential elements for sustainable change in healthcare: Delivery of care designed around the patient; payment and incentives based upon value and outcomes; and transparency of performance (quality and cost) throughout the healthcare system. Founded in 2008 and headquartered in Appleton, Wisconsin, we are a not for profit with a big mission to help change the healthcare industry. Learn more at: createvalue.org.