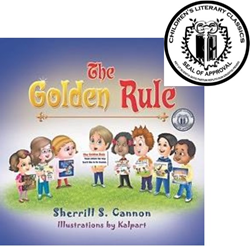 'Once again, children's author Sherrill S. Cannon has produced an award-winning effort. We are thrilled to announce the release of her latest book, which teaches one of the most important lessons in the world.' - Robert Fletcher, CEO of SBPRA
(PRWEB) May 12, 2016
Prolific children's book author Sherrill S. Cannon has done it again. After receiving 39 awards for her eight children's books, her latest, "The Golden Rule," was cited by Children's Literary Classics, receiving the CLC Seal of Approval. The rhyming picture book teaches the powerful message: "Treat others as you want to be treated."
The CLC Seal of Approval is reserved for books that uphold the rigorous criteria set forth by the Children's Literary Classics review committee, comprised of people with backgrounds in publishing, editing, writing, illustration, and graphic design.
According to Children's Literary Classics: "'The Golden Rule' is a fantastic book which teaches and inspires youngsters to be kind. Penned in rhyme, with a lyrical cadence, this book is well written and has a powerful message that will ring true with kids on many levels. 'The Golden Rule' is fun to read and is sure to become a favorite with parents, teachers, caregivers, and children. 'The Golden Rule' is recommended for home and school libraries."
Children's Literary Classics is dedicated to furthering excellence in children's literature, taking great pride in its role to help promote classic children's literature that appeals to youth, while educating and encouraging positive values in the impressionable young minds of future generations.
Social values take center stage in "The Golden Rule." Seems there's a bit of confusion when Robert and Kait hear their Mom talk about a "golden ruler." When they look for this mysterious ruler, they realize they heard it all wrong. What their Mom really said was "The Golden Rule."
Join Robert and Kait as they learn the true meaning of the words: Treat others the way you'd like to be treated. And wouldn't that make the world a better place!
This is the author's eighth book. Her others are "Mice & Spiders & Webs … Oh My!," "My Fingerpaint Masterpiece," "Manner-Man," "Gimme-Jimmy," "The Magic Word," "Peter and the Whimper-Whineys," and "Santa's Birthday Gift."
About the Author: Former teacher Sherrill S. Cannon has won 39 awards for her previous rhyming books and is also the author of seven published and internationally performed plays for elementary school children. She has been called "an absolute master of rhyming" by Mother Daughter Book Reviews, and "a modern day Dr. Seuss" by GMTA Review. She lives in New Hope, Pennsylvania. Now retired, she travels the country with her husband in an RV, going from coast to coast to visit their children and grandchildren, and sharing her books along the way.
"Once again, children's author Sherrill S. Cannon has produced an award-winning effort. We are thrilled to announce the release of her latest book, which teaches one of the most important lessons in the world," said Robert Fletcher, CEO of Strategic Book Publishing and Rights Agency.
The Golden Rule (ISBN: 978-1-68181-326-4) is now available for $12.50 and can be ordered through the publisher's website:
http://sbprabooks.com/sherrillscannon or at Amazon.com or Barnesandnoble.com.
Wholesalers: This book is distributed by Ingram Books and other wholesale distributors. Contact your representative with the ISBN for purchase. Wholesale purchase for retailers, universities, libraries, and other organizations is also available through the publisher; please email bookorder(at)sbpra(dot)net.