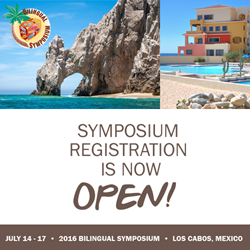 Atlanta, GA (PRWEB) May 11, 2016
Soliant Health, a leading specialty healthcare staffing provider and part of Adecco Group, announced today that its Bilingual Therapies unit will be hosting the 16th annual Bilingual Symposium in Los Cabos, Mexico from July 14-17, 2016.
The Bilingual Symposium unites practicing bilingual and monolingual speech-language pathologists (SLPs) in a three-day event that explores topics surrounding language diversity in schools. As the only American Speech-Language Hearing Association (ASHA)-approved CE provider conference of its kind, it focuses solely on how bilingual and monolingual SLPs can better serve the needs of bilingual children.
The Symposium features multiple sessions conducted by renowned speech-language professionals in small and interactive learning spaces. This year's agenda will feature sessions in the following language diversity topics:

Evidence-Based Practice: Analyzing Evidence and Applying It to Clinical Practice, by Maria L. Muñoz, Ph.D., CCC-SLP, Texas Christian University, Fort Worth, TX
Phonological Intervention with Bilingual Children: A Complexity Approach, by Leah Fabiano-Smith, PhD, CCC-SLP, University of Arizona, Tucson, AZ
Effective Language Intervention with Students from Diverse Backgrounds, by Ellen Stubbe Kester, PhD, CCC-SLP, Bilinguistics, Austin, TX
Developing Appropriate Speech and Language Goals for Bilingual Learners, by Liza Sánchez, M.A., CCC-SLP, Bilingual Therapies, Houston, TX
Intervention for Bilingual Adolescents and Adults with Acquired Brain Injury, by Maria L. Muñoz, Ph.D., CCC-SLP, Texas Christian University, Fort Worth, TX
Promoting the Language Abilities of Young Bilingual Children, by Carol Scheffner Hammer, Ph.D. CCC-SLP, Teachers College, Columbia University, New York, NY
Aside from informational sessions and networking opportunities with fellow SLPs, the Bilingual Symposium also provides up to 1.1 ASHA CEUs for each attendee. The event will be hosted at the luxurious Sheraton Hacienda del Mar Golf & Spa Resort on the beaches of Los Cabos, Mexico. Registrations are now being accepted at http://www.bilingualsymposium.com until June 1, 2016.
Bilingual Therapies is a leading provider of bilingual speech-language pathology, offering bilingual speech therapists job opportunities in school districts in diverse communities across North America. For more information about Bilingual Therapies and the Bilingual Symposium, please visit http://www.bilingualtherapies.com.
About Soliant Health
Soliant Health, an Adecco Group company, is a leading provider of specialized healthcare staffing services to hospitals, schools, and other healthcare providers. By supplying traveling healthcare professionals on both temporary and direct hire assignments, Soliant Health delivers comprehensive healthcare staffing services across the United States. Soliant's teams of professionals are qualified to fill physician, nursing, therapy, pharmacy, healthcare IT, advanced practice, telehealth, special education, and other healthcare positions. For more information about Soliant Health, please visit http://www.soliant.com.