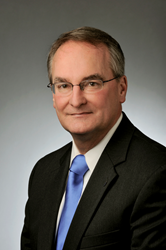 "I strongly believe in the MSOE mission – preparing students for exceptional careers as leaders and entrepreneurs. The success of the university in fulfilling this mission is remarkable."
Milwaukee, WI (PRWEB) May 12, 2016
Dr. John Y. Walz will be the next president of Milwaukee School of Engineering, effective July 1, 2016. Walz is only the fifth president in the university's 113-year history.
Walz earned a bachelor's degree in chemical engineering from Tulane University. After six years as a process support engineer for Shell Oil Company, Walz left to pursue a Ph.D. in chemical engineering from Carnegie Mellon University. He received his Ph.D. in 1992 and returned to Tulane as an assistant professor. In 1997, Walz joined Yale University's faculty as an associate professor of chemical engineering and in 2002 he became the department's chairman. In 2005 he became professor and head of the Department of Chemical Engineering at Virginia Tech and in 2012 Walz became dean of the College of Engineering at the University of Kentucky.
"Many sectors of our economy are undergoing massive change, and higher education is no exception. Universities throughout our country are facing challenges of degree relevancy and the value students receive from their education," said Scott Moon, chairman of the MSOE Board of Regents and chairman and CEO of DLSM Inc. "This year, MSOE was recognized as offering the best value of any Wisconsin college. Our goal is to increase MSOE's relevancy in this changing world by preparing high-impact students for the jobs of tomorrow. Our measure of success is the impact we make in terms of graduate job demand and ultimate job-creation within our society. The MSOE Search Committee looked for a new leader capable of expanding on this important recognition."
"After a more than 18-month search with over 400 applicants, I am extremely pleased to say that we have found the right leader for MSOE: Dr. John Walz," Moon continued. "Dr. Walz understands the challenges facing higher education and is very well equipped to handle these challenges. He has the right character, background and skillset to move MSOE forward."
"I am extremely honored and pleased to be joining MSOE as its fifth president. I strongly believe in the MSOE mission – preparing students for exceptional careers as leaders and entrepreneurs. The success of the university in fulfilling this mission is remarkable, and there is no doubt that as our society becomes more advanced, MSOE's importance and global impact will expand," said Walz. "I look forward to working with the Board, the university's leadership team, faculty, staff, students and alumni to continue moving MSOE forward as a national leader in innovative higher education."
As dean of the UK College of Engineering, Walz initiated and led the development of a comprehensive strategic plan for advancing the college, the goals of which were used to define the targets of an on-going fundraising campaign. He has also made major investments to improve the retention and success of undergraduate engineering students. Walz is a strong supporter of Project Lead The Way, which is directed from the UK College of Engineering for Kentucky.
Walz has received honors and awards from the universities where he has taught as well as from the National Science Foundation, who awarded him a Research Initiation Award in 1993 and a Faculty Early Career Development Award in 1997. In 2010, Virginia Tech recognized the Chemical Engineering Department's achievements, chaired by Walz, with an Exemplary Department Award. Walz is past-chair of the American Chemical Society Division of Colloid and Surface Chemistry (2011).
Walz and his wife Moira have three daughters. Megan is pursuing her graduate degree in biosystems and agricultural engineering at the University of Kentucky, Bridget is studying architecture at Virginia Tech, and Emily is a high school student.
Dr. Rolf Wegenke, president of the Wisconsin Association of Independent Colleges and Universities (WAICU) hailed the selection of Walz as the new president of MSOE. "Dr. Walz has had a distinguished career in business, education, academic leadership and in chemical engineering. MSOE is known as an entrepreneurial and innovative university with a profound impact, not only on students, but on the economy and on the broader community. It looks to me like a perfect match."
Dr. Hermann Viets retired after 24 years of service as president of MSOE June 30, 2015. Dr. Matthew Panhans, P.E., professor and former chair of MSOE's Mechanical Engineering Department, served as interim president while a nationwide search was conducted for Viets' successor. Panhans will continue in his role until Walz assumes the presidency. Panhans then will remain at MSOE as a professor and special advisor to the president.
MSOE's past presidents include:

Oscar Werwath, founder, 1903-1948
Karl Werwath, 1948-1977
Robert R. Spitzer, Ph.D., 1977-1991
Hermann Viets, Ph.D., 1991-2015
Milwaukee School of Engineering is an independent, non-profit university with about 2,900 students that was founded in 1903. MSOE offers bachelor's and master's degrees in engineering, business and nursing. The university has a national academic reputation; longstanding ties to business and industry; dedicated professors with real-world experience; a 96% placement rate; and the highest ROI and average starting salaries of any Wisconsin university according to PayScale Inc. MSOE graduates are well-rounded, technologically experienced and highly productive professionals and leaders.