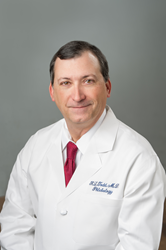 Bringing the specialty of treating venous insufficiency back to my hometown of Dothan, AL has been very rewarding.
Greenbelt, MD (PRWEB) May 27, 2016
Center for Vein Restoration (CVR), the nation's largest physician-­led vein treatment medical practice, is proud to announce the acquisition of Southeast Vein and Laser Center and, with it, the expertise of Dr. Kenneth Todd. This is the first location in Alabama for the rapidly expanding vein practice. CVR has just begun seeing patients at its newest location and will maintain the current practice's address of 3280 Ross Clark Circle, Dothan, AL 36303.
Dr. Todd and his practice are a great addition to CVR's growing family with his 18 years of professional experience treating venous insufficiency as well as the extension of his highly-­trained staff. Dr. Todd is also actively engaged in venous education, research, and publishing in the field. He has practiced Phlebology in Dothan for the last 18 years, he's seen this practice evolve from stripping to thermal ablation.
"Bringing the specialty of treating venous insufficiency back to my hometown of Dothan, AL has been very rewarding. Practicing this specialty enables me to improve the quality of life for people, many of whom have been previously told their symptoms were not vein related. If you have been told that your symptoms are not related to venous disease, see a qualified venous specialist before giving up and deciding to live with discomfort."
ABOUT KENNETH L. TODD, III, MD, FACPH, RPVI
After practicing Emergency Medicine for a few years, Dr. Todd decided to seek specialty training in Phlebology and completed a Preceptorship. He is board certified in Venous and Lymphatic Medicine, specializing in the treatment of venous disorders and vascular medicine. Dr. Todd has also accomplished the following:

Graduate of the University of Alabama School of Medicine (now UAB Medical School) in 1989 and finished his internal medicine residency at the UAB Internal Medicine Program in Montgomery, Alabama in 1992
Awarded the Walter P. de Groot Clinical Phlebology Fellowship for Foreign Study in 2003
An active Member, then Fellow, of the American College of Phlebology (ACP)
In addition to speaking numerous times at the Annual ACP Congress and being a Program Chair, Dr. Todd has been honored to serve on the Board of both the ACP and the ACP Foundation
Member of the 2009 Board Review Course Faculty for the American Board of Venous & Lymphatic Medicine
Primary author of "The Vanish-2 Study: a randomized, blinded, multi-center study to evaluate the efficacy and safety of polidocanol endovenous microfam 0.5% and 1.0% compared with placebo for the treatment of saphenofemoral junction incompetence
ABOUT VENOUS INSUFFICIENCY
Venous insufficiency, the cause of varicose veins and spider veins, indiscriminately affects between 30–40 million Americans. Numerous factors including age, weight, prolonged sitting or standing, genetics or a history of DVT (blood clots) can increase the risk of developing this all-­to-­common and often under-diagnosed disorder. Treatment options range from lifestyle changes like exercising or taking regular breaks from prolonged sitting or standing to an array of minimally-­invasive, outpatient procedures that close problem veins, redirecting blood flow to healthier ones.
For more information, visit http://www.centerforvein.com/vein-­conditions-­health-­information/
ABOUT CENTER FOR VEIN RESTORATION
Having performed its first procedure in 2007 under President and CEO Dr. Sanjiv Lakhanpal, Center for Vein Restoration (CVR) has since become a nationally recognized leader in the treatment of varicose and spider veins. Dedicated to relieving leg pain, treating the vascular cause of severe leg wounds, and eliminating unsightly veins, CVR's minimally invasive procedures allow patients to look better, feel better, and live better. With 51 locations and counting, they have assembled the most qualified and experienced team of physicians, researchers, and staff to serve patients across Maryland, Virginia, Connecticut, Michigan, New Jersey, New York, Pennsylvania, and Washington, DC.
For more information, visit http://www.centerforvein.com. You may also contact Nicole McMillan at nicole(dot)mcmillan(at)centerforvein(dot)com or 240-965-3277.