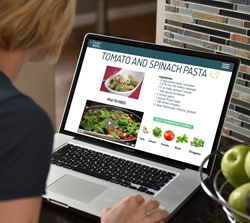 "Our mission has always been to create technology and tools that make rather complicated tasks like meal planning, cooking, and even gardening easy for today's busy families."
Bridgeport, WV (PRWEB) May 12, 2016
Healthy Kids Inc. (HKI), the top online meal planning tool specifically geared towards custom plans for families, has launched the first seed-to-table meal planner in the country to help Americans plan, cook, and grow real food using one integrated technology platform.
"With fruit and vegetable consumption on the decline nationally, Healthy Kids Inc. aims to make eating Real Food Real Easy," said Mandy Curry, HKI CEO and co-founder. "We want families to take pride in eating healthier foods."
The Healthy Kids Inc. online meal planner was created to solve the two biggest challenges families have with healthy eating – time and money.
Using HKI's proprietary online meal planning platform, a family can now create their own unique meal plan in a matter of minutes by selecting from hundreds of healthy meals and dragging the recipe directly to their calendar, which also populates a weekly shopping list.
"Meal planning is proven to help families save money, boost healthy food intake, all while reducing the consumption of fast foods and processed foods," Curry said.
The meal planner takes it a step further by also pairing each dinner recipe with a Professional Chef's cooking video, now paving the way for even kids to help out in the kitchen by simply cooking along with the chef each evening.
To help families that want to eat fresh foods with the highest nutrients and least expense, the meal planning technology now includes a fully integrated garden platform. Families are now guided through each step of growing the foods featured in their favorite recipes.
"We had created the technology that made meal planning and cooking easy for busy families. The garden integration was the missing piece that families were asking for," said Curry. "We truly believe this tool will give families the inspiration and confidence to move away from processed foods and begin growing and eating real food."
Since piloting their garden technology a year ago, they have helped nearly 10,000 vegetable plants get started in containers throughout the U.S.
"Our mission has always been to create technology and tools that make rather complicated tasks like meal planning, cooking, and even gardening easy for today's busy families," said Kirk Curry, HKI CTO and co-founder. "It's exciting to now see that garden technology integrated with our meal planning tool to help families with the full seed to table cycle."
Families cite cost as the most important factor when shopping for fruits and vegetables. Using the Healthy Kids Inc. meal planner to grow fresh vegetables, families can save up to 25% on their grocery bill, while significantly increasing vegetable consumption.
Healthy Kids Inc. were the recent winners of the 2015 Small Business Administration's local InnovateHER competition hosted by the Robert C. Byrd Institute for Advanced Flexible Manufacturing (RCBI) and the 2016 Vanguard Agriculture Competition sponsored by RCBI.
About Healthy Kids Inc.
Healthy Kids Inc. is an innovative meal planning tool designed to make eating Real Food Real Easy for even the busiest of families. To learn more about their services, visit https://www.healthykidsinc.com