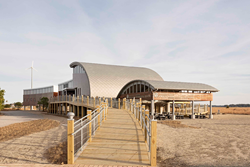 We cannot emphasize enough the team-wide cooperation and communication that was required to successfully create a project like the Brock Environmental Center.
Virginia Beach, VA (PRWEB) May 12, 2016
The Chesapeake Bay Foundation today announced the award of the prestigious Living Building Challenge (LBC) certification to the Brock Environmental Center, a 10,000-square-foot facility located on the Lynnhaven River at Pleasure House Point in Virginia Beach, Va. For a construction company, designers, and engineers, achieving this certification required going outside of the typical toolbox for new building methods, renewable technologies, and sustainable materials from around the world.
The LBC certification, given by the International Living Future Institute (ILFI), is the world's most rigorous and ambitious performance standard for buildings. The Brock Environmental Center is one of the only commercial buildings in the world to be LEED Platinum, fully LBC certified, and to create drinking water from rainwater.
With an emerging sustainable construction division, Hourigan Construction served as general contractor for the Brock Environmental Center, a net-zero energy, water, and waste facility. Partners included engineering and design firms SmithGroupJJR, Skanska, WPL Site Design, and JHarrison Architects.
"We cannot emphasize enough the team-wide cooperation and communication that was required to successfully create a project like the Brock Environmental Center," says Chris Brandt, Executive Vice President at Hourigan Construction. "The owner, architect, contractors and subcontractors legitimately felt like family and worked together over the course of many years to achieve the building's deeply sustainable features while maintaining the budget and the schedule."
The Living Building recognition means that the Brock Center is fully certified across each of the Challenge's seven "petals," which include place, energy, water, health, materials, equity and beauty. Each petal offers a series of requirements and sustainable construction challenges that the building must attain to be certified as a Living Building.
Among the Brock Environmental Center's components of sustainable construction and engineering to meet the Living Building Challenge's seven petals are:

Rainwater collection and treatment systems, for collecting rainwater to create drinking water and for use in sinks and showers (greywater).
Composting toilets (blackwater), to transform human waste into usable compost
Stormwater management systems, which help water to recharge into the ground through permeable surfaces
Renewable energy technologies, including photovoltaic solar cells, two wind turbines, geothermal wells, heating and cooling retention, rainwater usage, and net-zero carbon dioxide emissions, that each contribute to the facility being a net-zero energy building.
Reclaimed and salvaged exterior and interior materials, such as sinker cypress wood siding, fallen oak trees for benches, and old school gym bleachers for interior trim, salvaged ceramic, and champagne corks are repurposed as knobs.
Triple-glazed windows with a high insulating capacity, created with environmentally friendly manufacturing process
A preserved waterfront site that allows visitors to connect to nature
Architecture that includes no straight lines, which do not exist in nature
Access to the building that limits vehicular traffic and encourages walking and biking
For full details of the Brock Environmental Center's sustainable construction and engineering elements, visit the news section of the Hourigan Construction website or cbf.houriganconstruction.com.
Full sustainable construction and engineering details: http://www.houriganconstruction.com/news-events/2852/news-living-building-challenge-certification
ABOUT HOURIGAN CONSTRUCTION
Hourigan Construction is a full-service pre-construction and construction company serving a variety of markets including federal, healthcare, institutional, higher education and commercial. The firm holds both a Virginia Class A License and a North Carolina Unlimited License. Hourigan Construction operates throughout the Mid-Atlantic, with offices in Richmond and Virginia Beach. For more information, visit houriganconstruction.com.