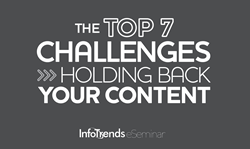 Denver, CO (PRWEB) May 11, 2016
Registration is now open for a new content automation eSeminar featuring insight from the strategic consulting firm InfoTrends. The eSeminar – The Top 7 Challenges Holding Back Your Content – will expose the universal challenges enterprise organizations face when creating, managing, and delivering business-critical content.
The eSeminar will be hosted by David Stabel, Associate Director of Research at InfoTrends, who led a recent study on the growth of content automation. The study found that the adoption of content automation is being driven by the need to improve customer satisfaction and meet growing demands for Web and mobile content.
eSeminar: Content Automation Trends: The Top 7 Challenges Holding Back Your Content
Date: May 25, 2016
Time: 8:00 am PDT | 11:00 am EDT | 4:00 pm BST | 5:00 pm CEST
Register Now: http://bit.ly/1T4qqtv
The upcoming eSeminar will offer valuable insight to attendees who are part of organizations or departments that rely on content to drive their business. Attendees will learn:

The top 7 challenges holding back content (as uncovered in InfoTrends research)
How well organizations understand their content processes
The complementary roles of enterprise content management (ECM) and content automation in the content lifecycle
InfoTrends top content-related recommendations for businesses
About David Stabel, InfoTrends
David Stabel is an Associate Director for InfoTrends' Customer Engagement Technologies advisory service, focusing on the customer communications management landscape, as well as on technology and best practices that drive better customer experiences and engagements. David is responsible for responding to client inquires, conducting market research and analysis, custom consulting engagements, forecasting market growth, and providing coverage of industry events in relation to the customer engagement solution market.
About InfoTrends
InfoTrends is the leading worldwide market research and strategic consulting firm for the digital imaging and document solutions industry. They provide research, analysis, forecasts, and advice to help clients understand market trends, identify opportunities, and develop strategies to grow their businesses. http://www.infotrends.com
About Quark Software Inc.
Quark Software Inc. develops a content automation platform that helps large organizations streamline the creation, management, publishing and delivery of business-critical content. Our solutions automate the process with reusable Smart Content components that can be dynamically assembled and delivered with precision in any format and to any channel — web, tablet, mobile, print, and more. As a result, leaders in industries such as finance, manufacturing, energy, and government can reduce costs, save time, improve consistency and make their content brilliant. [http://www.quark.com
# # #
Quark and the Quark logo are trademarks or registered trademarks of Quark Software Inc. and its affiliates in the U.S. and/or other countries.