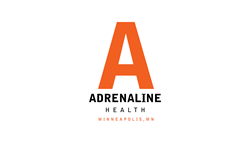 "We want to provide an 'inspiration platform' that allows consumers to engage in their health and wellness in easy, intuitive and rewarding ways."
Minneapolis (PRWEB) May 12, 2016
Seeking to elevate the relationship between consumers and the complex Health and Wellness ecosystems, industry veterans Brian Cooper, Scott Jagodzinski and Greg Heinemann have launched Adrenaline Health, a strategy and branding firm whose goal is to create a consumer-driven health care experience while also inspiring individuals to take more personal responsibility for their health. Based in Minneapolis, Adrenaline Health already counts three Fortune 500 companies as clients in its mission of humanizing consumer healthcare.
"When compared to other consumer experiences people encounter every day, whether it be at the Apple Store or finding a place to stay via Airbnb, health care is unpredictable, inconsistent and falls far short of standards consumers have come to expect," said Heinemann. "We want to provide an 'inspiration platform' that allows consumers to engage in their health and wellness in easy, intuitive and rewarding ways."
As the Health and Wellness category continues to evolve, consumers are becoming more responsible for making decisions and managing their dollars. Health Care organizations must adapt. Working with major health systems, self-insured employers and insurers, Adrenaline Health leverages assets and processes already employed in these systems and examines existing statistical, clinical and claims data overlaid with behavioral, cultural and psychographic research to create customer-centric profiles for a more custom engagement with each consumer.
"Once we take a client through that process, we create the platform that allows consumers to engage with their plan and select how they want to be rewarded for taking a more personal look at managing and hopefully improving their health," said Cooper.
"The consumer journey through any healthcare experience is typically full of friction," Jagodzinski added. "Our aim is to reduce this, opening the door for the creation of long-lasting customer relationships."
In addition to the consultancy's focus on improving the consumer's experience, Adrenaline Health also provides strategic consulting in product development, brand strategy and positioning, digital and traditional marketing services and qualitative and quantitative research.
Before founding Adrenaline Health, Cooper was vice president of business development for UnitedHealth Group and led business development for Target's health care division, while Heinemann was senior vice president and chief marketing officer at Olson, focusing on brand strategy and business development for clients like Best Buy, UnitedHealth Group and AARP. Jagodzinski is the former CEO of Mediaspace Solutions and Novus Media, focused on research planning and placement.
For more information, visit http://www.adrenalinehealth.com.
ABOUT ADRENALINE HEALTH
Based in Minneapolis, Adrenaline Health seeks to elevate the consumer experience with health care by leveraging meaningful data and analytics to drive customer engagement with their health and wellness. The brain child of industry veterans Brian Cooper, Scott Jagodzinski and Greg Heinemann, Adrenaline Health's core capabilities include business and marketing strategy, loyalty marketing strategy and management, digital marketing and data analytics, all with a primary focus on health and wellness. For more information, visit http://www.adrenalinehealth.com.