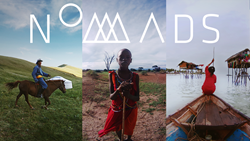 (PRWEB) May 11, 2016
Felix and Paul Studios, the Emmy Award-winning creator of live-action virtual reality experiences, today launched "Nomads," a first of its kind standalone virtual reality app that chronicles the lives of nomadic tribes. The app presents several cinematic VR experiences -- "Nomads: Herders," "Nomads: Maasai," and "Nomads: Sea Gypsies" – which all premiered at the 2015 and 2016 Sundance Film Festival's New Frontier exhibition. The free app is available now in the Oculus Store for Samsung Gear VR devices, and will soon launch for Oculus Rift devices in 6k resolution.
The "Nomads" experiences were created and directed by Félix Lajeunesse and Paul Raphaël, the studio's cofounders and creative directors. Lajeunesse and Raphaël brought their studio's proprietary 360 camera to Mongolia, Kenya, and the seas of Borneo to film a new kind of VR experience that transcends documentary. Without a narrator expressly providing direction, the viewer is left to examine their own feelings and beliefs about new cultures.
"The 'Nomads' series has been one of the most creatively challenging and rewarding projects for us. We are always looking to push the boundaries of virtual reality as a medium to create intensely personal experiences. VR allows us to learn about these nomadic cultures in a brand new way," said Félix Lajeunesse.
"Nomads" is now available for download in the Oculus Store for the Samsung Gear VR headset. The app was developed in-house at Felix & Paul Studios, and has been optimized to display the most pristine picture available within the landscape of virtual reality content.
"Releasing this series within its own app gives us the opportunity to set the stage for viewers. We designed the overall series experience to clear the viewer's mind for a moment before visiting these tribes. The app also lets us provide extras like directors' commentary, and will expand as we create new 'Nomads' episodes," said Paul Raphaël.
At launch, "Nomads" features three of Felix & Paul Studios' virtual reality pieces:
"Nomads: Maasai" follows the semi-nomadic pastoralists living along the Great Rift Valley in southern Kenya and northern Tanzania. They are a patriarchal society where young men become initiated as warriors, male elders make most decisions for the community and women milk the cows, cook, make beaded adornments, and build the mud-based houses. Today, the Maasai increasingly struggle over the rights to their ancestral lands and many are now turning to alternative and supplemental means of income, including farming or tourism.
"Nomads: Sea Gypsies" look at The Bajau sea nomads who live off fishing and spearfish hunting in the seas and oceans of South East Asia. A largely stateless people, they have lived on water for centuries, traditionally in longboat dwellings or more commonly today in stilt houses. As lifestyles change to adapt to the commercial fishing industries and territorial shifts, the way of life of the Bajau Laut is subject to increasing pressure. The viewer is invited to experience the daily life of a Bajau family.
"Nomads: Herders" focuses on Mongolian pastoral herders, one of the world's last remaining nomadic cultures. For millennia they have lived on the steppes, grazing their livestock on the grasslands. Through a series of virtual reality experiences, the viewer is invited into the reality of a nomadic family of yak herders.
Felix & Paul Studios was recently honored with its first Daytime Emmy Award in the Outstanding Interactive Media - Original Daytime Program or Series category for its virtual reality experience "Inside the Box of Kurios" with Cirque du Soleil. The studio received a second nomination in the same category for its "Inside Impact: East Africa" VR experience with President Bill Clinton.
About Felix & Paul Studios
Felix & Paul Studios is dedicated to storytelling through the medium of cinematic virtual reality. The studio combines technological innovation with a unique, pioneering and in-depth approach to the new art of virtual reality storytelling - creating high-end original cinematic experiences ("Nomads" and "Strangers") and collaborating with existing franchises ("Jurassic World", Cirque du Soleil and "Wild") and world-renown personalities (President Bill Clinton, LeBron James). Led by Emmy Award-winning directors and visionaries Félix Lajeunesse and Paul Raphaël, Felix & Paul Studios invites audiences into intimate, visceral and emotive cinematic virtual reality experiences, immersing the viewer in presence-driven storylines. The company has developed a full-stack VR technology platform - including proprietary 3D 360º camera systems and accompanying post-production software and process - which sets the industry standard for the highest-quality VR filmmaking.