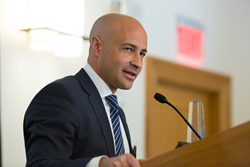 Harvard Law School Association President Salvo Arena is revitalizing the 139-year-old alumni organization.
Cambridge, MA (PRWEB) May 16, 2016
Harvard Law School Association President Salvo Arena announced today that leaders of the alumni organization's 32 domestic and international clubs and 11 Shared Interest Groups will convene in New York City June 28–29, 2016. This is the first time club and SIG leaders have come together at a single venue to discuss strategic outreach, global engagement and networking with HLSA leadership. The two-day retreat is one of many initiatives Arena is championing to better serve alumni around the world. An Italian corporate lawyer, he is only the third non-American to take the helm of the HLSA since its inception 139 years ago and is dedicated to connecting more than 38,000 alumni members in nearly 150 countries.
Under Arena's leadership, the organization recently launched a new alumni website powered by the AlumniMagnet platform; expanded its social media presence and communications outreach; and created three new SIGs dedicated to Private Equity and Venture Capital, In-House Counsel and Entrepreneurs. Today's leadership summit announcement reflects HLSA's emphasis on delivering added value to its members. More than 50 people are expected to attend and share visions, agendas and strategies for making HLSA the most powerful and beneficial "platform" in the world.
Shortly after assuming the role as HLSA's president in 2014, Arena embarked on an ambitious strategy to revitalize the organization and make it more relevant to members in the U.S. and abroad. By increasing the visibility of HLSA's 32 domestic and international clubs, and hosting more than 100 events around the world in the past year alone, he's forged connections with more than 4,000 Harvard Law grads at events, forums and seminars. Arena's next HLSA initiative, a professionally produced video featuring alumni, faculty and students, is slated to debut this spring.
Arena represents not only the organization's diverse geographic footprint, but also the changing face of the school itself. More than half of current Harvard Law School students are women, 44 percent are non-white, and 16 percent – the highest percentage in history – come from outside the U.S.
While he is in the second part of his HLSA term, Arena is far from resting on his laurels. He is leading several initiatives that will facilitate connections between Harvard's law and business schools – two disciplines intrinsically linked in today's global society – through events and symposiums that will encourage the exchange of perspectives among lawyers and business professionals.
Born in Switzerland to Italian working-class parents, Arena grew up in Italy with a focus on achieving the degree of success normally reserved for those born into privilege and wealth. After earning a law degree and a Ph.D. in corporate law from the University of Catania in Italy, and studying in London for an MBA at the Imperial College, he set his sights on Harvard Law School's LL.M. program. It was a decision that not only changed his life, but ultimately was one that would begin to reshape the school's approach to connecting with alumni around the world.
Arena leads the New York office of Studio Legale Chiomenti, one of Italy's leading law firms. In addition to serving as an international ambassador for Harvard Law School, he is active in raising scholarship funds for New York high school students to study in Italy.