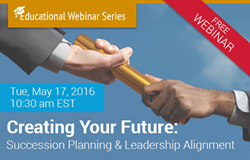 Louisville, KY (PRWEB) May 12, 2016
BSG Financial Group, a group of independently organized companies that provides revenue-enhancing programs and compliance solutions for financial institutions nationwide, announced today it will host a webinar for financial institutions entitled, "Creating Your Future: Succession Planning & Leadership Alignment." The free webinar, offered on Tuesday, May 17, 2016 at 10:30 am EST, will instruct institutions how to develop a succession plan that maximizes existing assets, while identifying and developing new talent for years ahead.
The webinar is especially relevant for senior-level positions at financial institutions that want to plan for the inevitable transitions in leadership and ensure a positive outcome for all constituents, including regulators, analysts, employees, shareholders, customers and account holders.
The session—which is part of an ongoing educational series that BSG Financial Group provides for its clients and potential customers—will feature a case study of a 113-year-old, $500MM community bank that took proactive steps regarding its succession plan. The speakers will share that institution's goals, process and outcomes, and introduce a straightforward approach that institutions can adapt and personalize.
In the 60-minute webinar, the speakers will present key components of a Succession Plan, including:

Working as One Team
Clarity around Main Goals
Defining Key Behaviors for Success
Identifying Future Leaders
Talent Development
Improving Institution-Wide Communication
Developing a Pro-Millennial Work Environment
The webinar presenters are, Jeff Peden, MEd and Lisa Schardein, both of Culture Docs™, a leadership and performance consulting group specializing in Creating Healthy Workplace Cultures.
Who: BSG Financial Group in conjunction with Culture Docs™
Presenters: Jeff Peden, MEd and Lisa Schardein
When: Tuesday, May 17, 2016 at 10:30 am EST
Registration: http://www.bsgfinancial.com/succession-planning-webinar
About BSG Financial Group
Louisville, Ky.-based BSG Financial Group is a group of independently organized companies that provides revenue-enhancing programs—combined with compliance solutions—for financial institutions to help them meet their financial goals. BSG Financial Group has been a provider of innovative overdraft programs since 1999, including the industry's first cloud-based overdraft management solution, Courtesy Connect(R)/Courtesy Limit™.
The company's additional revenue-enhancing solutions include: Demand Deposit Account Management; Fee-Based Packaged Checking Accounts; Expense Management & Vendor Negotiation; Vendor Management; Social Media Management; and Appraisal Management Services.
BSG Financial Group includes the following companies: CourtesyCloud Management Solutions, LLC; BSG Financial, LLC; and IQ Development, LLC. For more information about the company, visit http://www.BSGfinancial.com.
About Culture Docs™
Louisville, Ky.-based Culture Docs™ is a consulting and training team focused on providing leaders of organizations with the tools to maximize their existing assets, employees and customers, while developing a workplace culture where everyone supports the success of everyone else on the team, working together to achieve clearly defined goals. The net result is a working environment with commitment, passion, and clarity about its future.