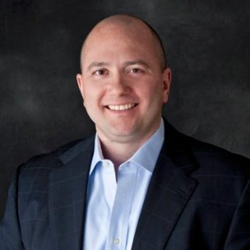 I am very excited to be joining the ROKITT Advisory Board. ROKITT offers unique and differentiated solutions which address critical aspects of the data management process
Jersey City, New Jersey (PRWEB) May 12, 2016
ROKITT, a technology company that offers enterprise data management and data discovery products that enable customers to simplify management of their complex web of disparate data assets, is pleased to announce the appointment of Anthony Palladino as a new member of ROKITT's Board of Advisers.
Anthony is currently the Vice President of Americas at Splunk, where he has helped drive significant business growth since 2011, and a Partner at JRC Inc. Anthony brings over 15 years of experience in Sales, Operations, Marketing, Strategy, and Go to Market planning and execution for enterprise technology and data products. Previously, he held executive positions with several leading global enterprise software companies, including HP, BMC Software, BladeLogic and Mercury Interactive.
"We are very excited to have Anthony on our Board," said Oksana Sokolovsky, CEO and co-founder of ROKITT. "As a customer, I have known and worked with Anthony and his teams for a number of years. He understands the criticality of creating and bringing compelling value propositions and the ROI required on the customer side. He knows how to help teams communicate, partner, and differentiate their offerings."
"Anthony's experience, perspective, and skills compliment the ROKITT Leadership Team extremely well," said Rohit Mahajan, CTO and co-founder of ROKITT. "Anthony brings strong business judgement and experience with launching fast growing data products. Anthony knows firsthand the significant value and return on investment that ROKITT can provide its customers".
"I am very excited to be joining the ROKITT Advisory Board. ROKITT offers unique and differentiated solutions which address critical aspects of the data management process," said Anthony Palladino. "With a tremendous vision and an acute understanding of the customer challenges, a sharp Engineering staff, and early customer success, ROKITT' s solutions are compelling and address problems that need to be solved now. I'm thrilled that I can help in accelerating the company's growth and customer success."
About ROKITT:
ROKITT was founded in 2014 and is focused on solving the challenges of DATA! Having worked in some of the most demanding IT environments in the world, our people bring the agility, skill and experience required to build best in class metadata product. We are proud to be certified as a women's business enterprise by the Women's Business Enterprise National Council (WBENC).
ROKITT ASTRA automatically discovers and self-learns data relationships with up to 90%+ accuracy to help organizations to quickly and accurately baseline the enterprise data landscape. ROKITT ASTRA utilizes machine learning to uncover hidden data relationships while providing a powerful visualization technology to empower organizations to understand and leverage data across several areas of the business. Additional information is available at http://www.rokittech.com.
All media inquiries should be directed to Verrion Wright, Media Relations for ROKITT at 551-225-3807 or verrion(dot)wright(at)rokittech(dot)com.