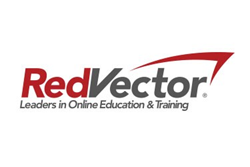 Our OSHA 10 program was enhanced to better suit evolving learning styles, including those of the mobile AEC professional
Tampa, FL (PRWEB) May 12, 2016
RedVector, the leader in eLearning and workforce training solutions for the architecture, engineering, construction (AEC), industrial and facility management industries, will provide workers an orientation to occupational safety and health via an updated OSHA 10-hour construction training course that can be played conveniently on a variety of mobile devices.
The updated OSHA 10 online training format will include two key new features:

Full Mobile Compatibility: Can be played conveniently on mobile devices
Complete Audio: Now includes full voice narration for an optimized learning experience and for on-the-go training
"We know the AEC industry is going mobile, and we will continue to enhance our products to meet the needs of modern learners," said Bobby Person, RedVector Product Director. "Our OSHA 10 program was enhanced to better suit evolving learning styles, including those of the mobile AEC professional."
RedVector is an OSHA-authorized online outreach training provider, and this OSHA 10 mobile training course provides workers with critical knowledge of a variety of OSHA-regulated safety and health topics – including which topics fall under OSHA's umbrella, how OSHA operates to protect both workers and employers, and how workers can benefit from knowing OSHA's standards.
In addition to popular OSHA 10 training, RedVector offers a complete Health, Safety and Environment Training Curriculum, which includes lockout/tagout courses, fall protection training and much more.
About RedVector
RedVector sets the standard for excellence in online continuing education and training for the architecture, engineering, construction (AEC), industrial and facility management industries and holds nearly 100 state and national accreditations. RedVector offers individual courses as well as large-scale corporate training solutions featuring customizable and easily accessible online universities with a full range of tracking and reporting features. With an online library exceeding 2,250 courses authored by more than 100 subject matter experts, RedVector serves professionals and organizations in all 50 states. The recipient of numerous community honors and industry awards, RedVector was founded in 1999 and is headquartered in Tampa, Florida. For more information, call 1-866-546-1212 or visit http://www.RedVector.com.