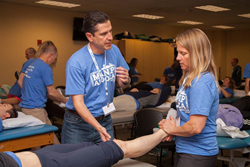 Louisville, KY (PRWEB) May 12, 2016
Evidence In Motion (EIM) held their sixth annual Manipalooza, a 3-day festival of hands on learning in manipulation, soft tissue techniques, pain management strategies, sports physical therapy, and practice management for physical therapists, on April 22-24, 2016 at the University of Colorado – Denver.
Presentation topics throughout the course of the weekend included Advanced Integrative Management of the Hip Region, Advanced Manual Therapy of the Foot & Ankle, Concussion Leadership Physical Therapy, Teaching Patients About Pain, and Integrating Neural Dynamics in Lower Extremity Management.
Throughout the course of the event, the record breaking 160+ participants learned the most cutting-edge techniques from experts in the physical therapy field. This year's faculty included more than 30 national and international thought leaders in the profession, as well as respected faculty from across the country. Manipalooza 2016 faculty included:

Larry Benz, PT, DPT, OCS, MBA
Bob Boyles, PT, DSc, OCS, FAAOMPT
Tim Flynn, PT, PhD, OCS, FAAOMPT
Michael Furtado, PT, DPT, NCS
Adriaan Louw, PT, PhD, CSMT
Paul Mintken, PT, DPT
Jake Magel, PT, DSc from Cl
Jack Miller, PT, DPT, MClSc, BSc(PT), Dip Manip Ther(NZ)
Jeff Moore, PT, DPT, OCS, MTC, FAAOMPT
Jason Rodeghero, PT, DPT, PhD, OCS, ATC, FAAOMPT
Jessica Schwartz, PT, DPT, CSCS
Jason Steere, PT, DPT, ATC, CSCS
Rob Werstine, HBA, BSc(PT), MSc(PT), Dip Manip, Dip Sport, FCAMPT
Julie Whitman, PT, DSc, OCS, FAAOMPT
The caliber and experience of EIM's distinguished group of founders and presenting faculty is unparallelled. They are among the most well-recognized names in the physical therapy field and have been selected to receive more than 27 teaching awards and 65 research awards, taught more than 220 university level courses, founded more than 40 different business organizations, and held appointed positions in more than 115 national and international professional associations.
For more information on Manipalooza 2016 and to stay tuned for details on Manipalooza 2017, please visit http://www.manipalooza.com or http://www.evidenceinmotion.com.
About Evidence In Motion (EIM):
Evidence In Motion (EIM) is an education and consultation company that exists to elevate the role of physical and occupational therapists in health care delivery by providing premiere entry-level and post-professional education programs for rehabilitation professionals. They emphasize flexible educational offerings that feature the perfect blend of online and hands-on training from world-renowned educators with extensive experience in teaching, research, and business. EIM offers Continuing Education, Residency (Orthopaedic, Sports, and Neurologic), Orthopaedic Manual Physical Therapy Fellowship, Postprofessional Doctorate in Physical and Occupational Therapy and Certificate training programs (Manual PT, Sports PT, Pain Specialist, Geriatric, Industrial Health, Pelvic Health, Balance and Falls, Concussion Management, Hand, Cardiac, Stroke and Pediatric and Executive Program in Private Practice Management). For more information, please visit EvidenceInMotion.com. You can also find EIM on Facebook, Instagram, LinkedIn, and Twitter, @EIMTeam.
###