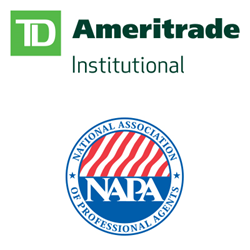 NAPA Premier streamlines the E&O process for RIAs with simplified underwriting and instant certificates of insurance
Lakewood Ranch, FL (PRWEB) May 20, 2016
TD Ameritrade announced today that the National Association of Professional Agents (NAPA) has been added to their list of approved Errors & Omissions (E&O) Insurance providers.
The NAPA Premier E&O program starts at just $73.75 per month after down payment and provides broad coverage options designed to meet the professional liability needs of Registered Investment Advisors (RIAs) and RIA firms. The policy is a duty to defend contract underwritten by Nationwide Mutual Insurance Company, rated A+ XV by A.M. Best.
"NAPA Premier streamlines the E&O process for RIAs with simplified underwriting and instant certificates of insurance," comments Risk Consultant, Jason Rogers. "We are excited to introduce this well-rounded, superior E&O product offering to TD Ameritrade RIAs."
As the RIA industry continues to evolve and grow, it's important for RIAs to proactively manage their firm's liability risk exposures. Errors & Omissions Insurance is an integral component of this practice management process especially for those newly formed RIA firms.
"Mistakes and errors happen. It's the nature of the business. Having the added layer of protection an E&O policy provides is imperative," mentioned Senior Risk Consultant, Ted Baran. "E&O carriers are well-versed in managing complex claims and have many resources available to help expedite the claims settlement process."
Since 1989, NAPA has been a trusted provider of professional liability insurance for financial professionals. Currently serving over 100,000 clients, NAPA has a unique understanding of the new and complex liability exposures facing financial professionals.
To learn more about the NAPA Premier TD Ameritrade E&O program, visit http://www.napa-benefits.org/TDAmeritrade/errors-and-omissions or call (866) 389-0023.
About TD Ameritrade Institutional:
TD Ameritrade Institutional is a leading provider of comprehensive brokerage and custody services to more than 5,000 fee-based, independent registered investment advisors and their clients. Our advanced technology platform, coupled with personal support from our dedicated service teams, allows investment advisors to run their practices more efficiently and effectively while optimizing time with clients. TD Ameritrade Institutional is a division of TD Ameritrade, Inc., a brokerage subsidiary of TD Ameritrade Holding Corporation.
Brokerage services provided by TD Ameritrade, Inc., member FINRA / SIPC.