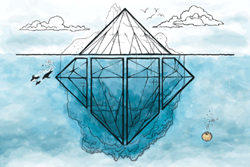 Scottsdale, Ariz. (PRWEB) May 12, 2016
TTI Success Insights (TTI SI) will show the value of using multiple assessments at ATD 2016 International Conference & Exposition.
TTI SI's booth at ATD this year will focus on showcasing assessment tools that can help attendees dive deeper than DISC, one of the most widely used behavior-based assessments in the market, to help organizations maximize their greatest asset: people.
Using a DISC assessment is a common place to start to improve communication, engagement and understanding others. However, only using this tool is the equivalent to only looking at the tip of an iceberg. Understanding the whole person and their true potential is likely below the surface, deeper than the behaviors we can observe.
"Replacing a bad hire can cost a company five times the amount of that individual's salary. Because of this it is imperative to find and retain individuals who are intrinsically motivated by the job," said Rick Bowers, president of TTI SI International Distribution. "Our research shows using two assessments improves hiring accuracy from 60 percent to 80 percent, while using three increases it even higher to 93 percent accuracy."
Attendees are invited to booth 225 to get a free copy of the book, "Talent Unknown: Seven Ways to Discover Hidden Talent + Skills." Attendees will also see firsthand how multiple assessments measure the why, how and what of a person – 12 Driving Forces™, emotional intelligence, skills and stress. When organizations use a multi-science approach to understanding their people and dive deeper than DISC, the key to solving people challenges is clear. TTI SI is also a sponsor of ATD 2016's international orientation, international reception and the ATD Global Village.
In addition, TTI SI Strategic Partner Ron Price of Price Associates is a featured speaker on Tuesday, May 24. In Price's educational session, Winning the Global War on Talent, attendees will discover insights into the impact demographic trends will have on companies' future leadership challenges, and explore how TTISI's talent assessment tools can align development plans with natural talent patterns.
"Emerging demographic trends will have a tremendous impact on companies' future leadership challenges," Price said. "I will explore talent profile tools to show you how to align your development plans with natural talent patterns in my educational session, Winning the Global Talent War."
ATD will take place May 22-25 in Denver. The conference covers the latest trends, best practices and new solutions for designing, delivering, implementing and measuring learning programs for talent development professionals. The TTI SI booth will be open throughout the exposition. For more information on TTI SI, visit http://www.ttisi.com.
About TTI Success Insights
TTI Success Insights believes all people are unique and have talents and skills of which they are often unaware. We exist to reveal and harness these talents, using the Science of Self™. For over 30 years, we have researched and applied social and brain science, creating assessment solutions consultants in 90 countries and 40 languages used to hire, develop and retain the best talent in the world. With a tenacious, innovative culture, we transform potential to productivity, performance and profits. Every 7 seconds, someone is taking a TTI SI assessment to increase their self-awareness and grow their career. For more information, visit http://www.ttisi.com and @TTI_SI.