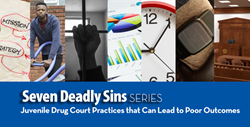 "It is important for us to continue to provide training and technical assistance and create more robust peer-to-peer learning for our courts."
Reno, Nev. (PRWEB) May 16, 2016
The National Council of Juvenile and Family Court Judges (NCJFCJ) launched a new blog series identifying seven specific practices that can be detrimental to a juvenile drug court and its youth. Juvenile drug courts (JDCs) often face important decisions when developing or revising their programs. These decisions affect JDC practices and can have far reaching implications for JDC youth.
Each article proposes short-term and long-term solutions to these practices with the goals of increasing JDC effectiveness and positively influencing youth.
May is National Drug Court Month and is an opportunity to celebrate the exceptional success of adult drug courts, JDCs, family dependency treatment courts, tribal healing to wellness courts, DWI courts, and veterans treatment courts across the U.S.
JDCs in particular serve a critical role in helping youth address, and ultimately overcome, concurrent substance abuse and delinquent behaviors. Comprehensive interventions for juvenile substance abuse are particularly important because early substance abuse is a risk factor for justice system involvement and lifelong addiction issues.
JDCs are multidisciplinary collaborations – judges and probation officers, treatment providers, and ancillary services working in concert to address successfully the many interrelated challenges that juveniles and families present. Effective assessment, training, technical assistance, and performance measurement for JDCs focusing on strengthening a jurisdiction's ability to provide quality, evidence-based adolescent services within a team framework while being responsive to each juvenile's particular strengths and needs is available from the NCJFCJ.
"It is important for us to continue to provide training and technical assistance and create more robust peer-to-peer learning for our courts," said Cheri Ely, MA, NCJFCJ director of juvenile justice. "The NCJFCJ will continue to do diligent work in documenting our progress and processes to demonstrate viable implementation strategies to assist judges in helping youth rehabilitate."
The NCJFCJ has worked with more than 200 juvenile drug courts across the country to educate the courts on a team approach to working with youth who have concurrent substance and delinquent behavior.
About the National Council of Juvenile and Family Court Judges (NCJFCJ):
Founded in 1937, the Reno, Nev.-based National Council of Juvenile and Family Court Judges, is the nation's oldest judicial membership organization and focused on improving the effectiveness of our nation's juvenile and family courts. A leader in continuing education opportunities, research, and policy development in the field of juvenile and family justice, the 2,000-member organization is unique in providing practice-based resources to jurisdictions and communities nationwide.