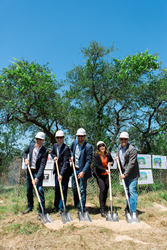 "This product is exactly what the city of Austin needs, an affordable, quality 3bd/2ba unit for rent within a 10 mile drive of downtown Austin." said Ryan Larson, Principal at LDP.
Austin, TX (PRWEB) May 16, 2016
Finding a place to live in Austin is already a monumental task. One that offers space, location, privacy, affordability, and community is a unicorn- in other words it doesn't exist. Rather, it didn't exist. For a lucky group of renters, Bee Caves Vistas will be the rare commodity, a new single-family home available for lease within 10 miles of downtown Austin.
Lonestar Development Partners (LDP) in collaboration with Real Capital Group & Austin 360 Home, broke ground on the luxury townhome community, near the Y in Oak Hill and the Southwest Parkway corridor on Friday May 6th, 2016. Bee Caves Vistas is situated between shopping centers Barton Creek Mall, Sunset Valley and The Hill Country Galleria, and located only minutes from downtown classics, like Barton Springs and SoCo. Likewise, beautiful hill country icons such as Hamilton Pool are only 30 minutes in the opposite direction.
The Bee Caves Vistas community offers a different kind of living experience designed to give renters a home rather than a space. Residents will wake up and fall asleep to 20+ acres of sweeping views above the Williamson Creek Greenbelt. They will enjoy professional landscaped natural yards, two-car garages, kids play-scape, dog-park, and interior luxury finishes like granite countertops, stainless steel appliances, custom cabinets, high ceilings, and cultured marble.
The 89 homes share three floor plans and all include three bedrooms and two-and-a-half baths and range from the 1,396 square foot Mount model, to the 1,681 square foot Overlook model. So when will all of this be available? Units will be available for lease starting in the first quarter of 2017.
The development is located at 7318 Old Bee Caves Rd. Austin TX 78735, any additional information about Bee Caves Vistas Town Homes can be found on http://www.lonestardevelopmentpartners.com, which features renderings, and construction updates.