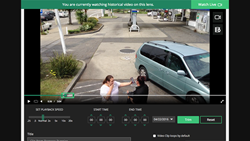 "Perch Live levels the playing field by letting everyone see what's going on without delay"
Oakland, CA (PRWEB) May 17, 2016
Perch Innovations, Inc. today unveiled Perch Live, a free app that turns smartphones into 24-hour security cams anyone can watch.
Perch Live can help deter unwanted activity around homes and businesses and assist in solving real-world crimes by providing access to live and historical video. While enhancing security, Perch Live provides a fascinating view into the reality of public locations and can create greater accountability in law enforcement procedure.
Make active use of an iPhone or iPad by using the new Perch Live app to turn the device into a "Lens." The app captures and uploads HD video over Wi-Fi or cellular data without the need for an additional computer or software installation.
The Perch Live website (PerchLive.com) displays live video and allows users to access weeks' worth of historical video footage. Users can stream up to 24-hours a day, and lenses are searchable by both location and keyword. Users can trim historical video into clips of specific incidents which can then be shared on social media.
25-year-old Andre Larrick was frustrated by regular illegal activity and trash dumping outside his home in North Oakland. He set up a Lens facing out of his bedroom window and has already captured multiple incidents of illicit activity.
"There's a sign saying this area is monitored by police video—but people seem to ignore that. I'm hoping once they see themselves on Perch Live, they'll pick somewhere else to dump and sell drugs," said Larrick. "I'm amazed at some of the clips people have made from my Lens already."
Perch Innovations Founder, Rob Banagale suggests Larrick is not alone. "When authorities capture or gain access to video of public spaces, the unabridged streams generally aren't made available to the public. Perch Live levels the playing field by letting everyone see and take appropriate action without delay."
About Perch Live
Perch Live is a video monitoring platform providing publicly viewable security footage. Perch Live allows old smartphones to broadcast extended and uninterrupted video of public spaces. The Perch Live app for capturing video is available for free in the App Store (https://perchlive.com/download); watch video and create clips from desktop computers using the web application (https://perchlive.com).