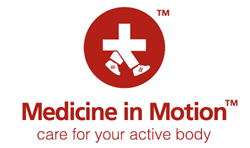 Dehydration prevention should take place the day before a person plans to exercise or participate in an outdoor event.
Austin, Texas (PRWEB) May 16, 2016
For many, summertime means outdoor activities, prolonged exposure to the sun, and excessive sweating—all of which can lead to dehydration. Although dehydration can happen any time of the year, the summer months are of particular concern because of the higher temperatures.
"Dehydration occurs when there are inadequate amounts of fluid in the body," said Dr. Martha Pyron, Austin sports medicine doctor and owner of Medicine in Motion. "While athletes are highly prone to losing essential bodily fluids due to increased sweating during physical activities, it can affect anyone. When a person has lost more than two percent of their body weight during activity, they are considered to be dehydrated."
Dehydration symptoms may include:

Sticky or dry mouth
Significantly reduced urine output
Urine that is dark in color
Inability to produce tears
Weak or dizzy feelings
Skin doesn't retake its shape immediately after being pinched
The best way to battle dehydration, of course, is to drink lots of water or sports drinks before, during and after any intense physical activity or prolonged exposure to hot temperatures. If ignored, dehydration can lead to other problems such as heat exhaustion, muscle cramps, fatigue or even heat stroke.
Whether a person is a tri-athlete, hitting the treadmill for 10 minutes during their lunch break or simply taking a brisk walk during the summer months, dehydration can hit anyone.
Water has a profound effect on the body by:

regulating temperatures;
keeping joints lubricated;
shuttling around vital nutrients; and
transporting waste.
A few common ways a person can become dehydrated include:

Not enough water/fluid ingestion
Exercising in dry/hot weather or in high altitude locations
Exercising for an excessive amount of time
Intense sweating
Not replacing fluid losses that occur when partaking in physical activity
Dr. Pyron added, "Dehydration prevention should take place the day before a person plans to exercise or participate in an outdoor event. The average adult should drink 64 ounces of non-caffeinated and non-alcoholic drinks a day. Add an additional 16 ounces for every hour of exercise. Different body types require different levels of hydration, so some may need a little more or less to prevent dehydration. Remember, once thirst sets in, so has dehydration!"
Medicine in Motion (MIM) specializes in providing top quality sports medicine in Austin, Texas, for athletic individuals of all ages and levels. The staff at MIM believes active bodies are healthy bodies, therefore it is the office's goal to keep patients energetic and fit. To that end, MIM provides treatment of injuries and illnesses, including the use of physical rehabilitation; promotes healthy living with personal training and nutrition coaching; and offers comprehensive sports medicine evaluations to optimize health, activity level and sports performance. For more information or for questions regarding sports medicine in Austin, contact Medicine in Motion at 512-257-2500 or visit the website at http://www.medinmotion.com.