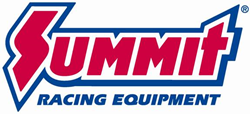 Tallmadge, OH (PRWEB) May 20, 2016
Summit Racing now carries Mahle Diesel PowerPack Pistons. The pistons feature bowls that are specifically designed to mitigate piston crown erosion caused by high cylinder pressures and long duration, advanced ignition timing, making them ideally suited for performance diesel engines. The pistons are also coated in GRAFAL® to reduce drag and increase scuff resistance.
Performance Cast
These diesel pistons are designed for trucks making from 400-1,000 horsepower. They're strong enough for competition-level pulling rigs, but since the pistons are derived from OE castings, they have daily driver durability.
Additional Features

Lower compression ratio (.5 to 1.5 points) allowing more flexibility for high output tuning
Fully radiused valve pockets to reduce stress and fatigue cracking
Rings, pins, and clips included
Performance Forged Series
These forged pistons are best suited to dedicated drag and pulling trucks. The forgings eliminate the piston's steel top ring groove to gain strength and a performance edge. The drawback is a reduction in the piston's service life. Performance Forged pistons are machined from Mahle's exclusive M142S alloy, which gives them excellent thermal resistance and low expansion characteristics.
Additional Features

Available in custom compression ratios
Fully radiused valve pockets to reduce stress and fatigue cracking
Hard anodized top ring groove for added durability and increased longevity
Extreme Duty MONOTHERM®
These pistons are at the top of the Mahle performance heap. Their all-steel construction makes them the ultimate choice for high-performance competition and serious towing duty.
Additional Features

Integrated cooling gallery
Steel ring grooves for unmatched durability and longevity
Diesel PowerPak Pistons are currently available for Dodge 5.9L Cummins and Chevy 6.6L Duramax diesel engines.
Summit Racing Equipment
http://www.SummitRacing.com
1-800-230-3030