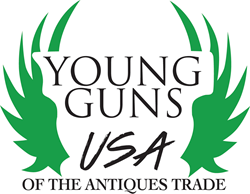 New York, NY (PRWEB) May 16, 2016
Antiques Young Guns U.S.A. recently announced their continued partnership with Asheford Institute of Antiques, the world's largest distance-learning and educational program related to the study of antiques, collectibles and appraising. The Institute previously partnered with AYG in 2015.
"We're happy to again be sponsoring a younger generation of antique and collectible enthusiasts, who have not only shown a desire to succeed in this exciting profession, but who have also demonstrated the aptitude and skills necessary to make this dream a reality," says Director of Asheford Institute of Antiques Charles Green.
The Asheford Institute of Antiques seeks to create and develop innovative teaching methods utilizing a wide variety of acclaimed academic resources. Started in 1966 by Peter C. Green, Asheford offers a complete and comprehensive home-study program to individuals interested in antiques, collectibles and professional-level appraising. The courses consists of over 1,600 pages in 12 textbook volumes or for the e-Course version, 13 online e-Course volumes. This also includes seven comprehensive examinations and 15 additional teaching aids. The complete course is divided into five plans of study. Each plan of study is further categorized into four main modules of learning: Pleasure, Profit, Appraising and Care & Restoration.
For a second year, the Asheford Institute of Antiques is offering Antiques Young Gun members a 15 percent discount off of any of their e-Course Payment Plans. This new online program comes loaded with features such as multimedia engagement, videos, interactive activities, printable business plans, online price-guides, recorded lectures and more. Instruction techniques have been developed to make maximum use of the online format, so that individualized learning can be achieved with relative ease.
For more information on the Asheford Institute or to enroll today, visit http://www.asheford.com.
###
About U.S. Antique Shows & Antiques Young Guns U.S.A.
U.S. Antique Shows formed a strategic alliance with Antiques Young Guns U.K. to bring the incredibly successful program to the United States in March 2015. Antiques Young Guns U.S.A. promotes growth, education and exposure to those in the trade, 39 years old or younger, to a national audience of antiques enthusiasts. The program offers many member benefits, including online exposure through the Antiques Young Guns marketplace, several buying, selling and networking events throughout the year, recognition in numerous trade and national publications and much more.
U.S. Antique Shows, producer of the industry's most anticipated events, serves the unique needs of the antique and antique jewelry marketplace with shows in Las Vegas, Los Angeles, Miami and New York. The group's events offer a broad range of antiques as well as antique, vintage and estate jewelry and watches, and annually draws more than 50,000 consumers and 3,000 dealers from 28 countries worldwide.
For more information on Antiques Young Guns U.S.A., visit AntiquesYoungGunsUSA.com, like us on Facebook: Facebook.com/AntiquesYoungGuns, follow us on Twitter and Instagram: @AYG_USA. Check out our blog at youngguns.usantiqueshows.com/blog/.
About Asheford Institute of Antiques
The Asheford Program is an internationally recognized, professional-level "Profit & Pleasure" Course on the study of antiques, collectibles and appraising. Created in 1966, by school founder Peter C. Green, the program has had over 80,000 students worldwide since its inception. With its emphasis on excellence in learning, training and innovative approaches to teaching, it has become recognized as one of the premiere schools in the development of distance-learning education that is geared specifically towards successful entrepreneurship in the field of antiques, collectibles and professional-level appraising. The student body is comprised mainly of individuals who are actively seeking employment or self-employment within these fields of study.
For more information on Asheford Institute of Antiques, visit http://www.asheford.com. Follow Asheford Institute on Twitter: @AntiqueCourse and like them on Facebook at Facebook.com/ Asheford-Institute-Of-Antiques-authorized-FB-page-323246561039028